Pumpernickel Bread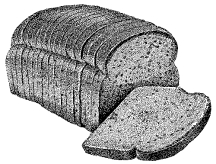 1-3/4 cups warm tap water
2 tablespoons margarine
1/2 cup molasses
2 cups bread flour or all purpose flour
1 cup whole wheat flour
1-1/2 cups rye flour
2 tablespoons instant nonfat dry milk powder
2 teaspoons salt
1/4 cup unsweetened cocoa
1 teaspoon instant coffee powder
2 teaspoon caraway seeds
3 teaspoons active dry yeast
Measure the ingredients into the bread pan in the order listed. Make a well in the flour and sprinkle the yeast into it. Set the machine to it's Basic or Whole Wheat Cycle. Press Start, and let the machine work it's magic. Remove the cooked bread from the pan after baking and allow it to cool before slicing.
This is a dark rich loaf with a flavor which is out of this world. I love turkey sandwiches made with this bread. It tastes so good fresh that it doesn't usually last more than one day.
Disclosure: Some of the links below are affilate links, meaning, at no additional cost to you, I will earn a commission if you click through and make a purchase.