Rapid Cycle Potato Bread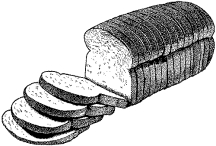 1-2/3 cups warm tap water
2 tablespoons margarine
4 cups unbleached bread flour or whole wheat flour
2 teaspoons salt
2 tablespoons Honey or brown sugar
1/2 cup instant mashed potato flakes
2 teaspoons active dry yeast
Measure the ingredients into the bread pan in the order listed. Make a well in the flour and sprinkle the yeast into it. Set the machine to it's Rapid or Quick Cycle. On my machine this lasts for 80 minutes, or 1-1/3 hours. Press Start, and let the machine work it's magic. Remove the cooked bread from the pan after baking and allow it to cool before slicing.
If you like a fluffier, higher rising loaf, then you make bake this on the Basic Cycle instead of the Rapid Cycle. The bread will be fluffier, and rise much higher. It will still taste very good too.
The texture of this bread reminds me of the crusty homemade loaves you can still find baked in old fashioned wood burning stoves in some hidden portions of the deep south. I like this bread best with margarine and jelly, but it is an excellent all purpose bread. It stays soft a little longer than some machine baked breads. Perfect for lunchbox sandwiches. Makes a 2 lb loaf.
Disclosure: Some of the links below are affilate links, meaning, at no additional cost to you, I will earn a commission if you click through and make a purchase.