Bread Machine Corn Bread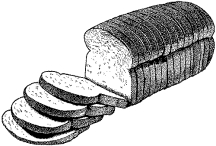 1-1/2 cups water
2 teaspoons salt
2 tablespoons margarine
1/3 cup sugar
1/2 cup dry milk powder
1 cup yellow cornmeal
3-1/2 cups bread flour or all purpose flour
2 teaspoons active dry yeast
Measure the ingredients into the bread pan in the order listed. Make a well in the flour and sprinkle the yeast into it. Set the machine to it's Basic Cycle. On my machine this lasts for 3 hours. Press Start, and let the machine work it's magic. Remove the cooked bread from the pan after baking and allow it to cool before slicing.
Folks who prefer their cornbread sweet, will love this recipe. Hearty enough to accompany spicy foods like Chili, this bread is still refined enough to serve to the Preacher and his wife when they come for Saturday night Supper. My boys love this bread with meals, although they don't always like it for sandwiches. Personally, I think it makes fine sandwiches, serving especially well as a base for Sloppy Joes.
Disclosure: Some of the links below are affilate links, meaning, at no additional cost to you, I will earn a commission if you click through and make a purchase.