Bran Muffin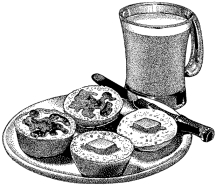 2 eggs
1/2 C sugar
1/4 C molasses
1 1/2 C buttermilk
1/4 C canola oil
1 1/2 C all purpose flour
1 tsp salt
1 1/2 tsp baking soda
2 1/2 C bran
Preheat oven to 400 degrees.
Spray the cups of a muffin tin generously with a non stick cooking spray.
Place the eggs in a large mixing bowl and whisk them with a fork.
Add the sugar, molasses, buttermilk and canola oil.
Beat together well.
Place the flour, salt and baking soda into the liquid mixture.
Add the bran and mix well.
Pour the batter into the prepared muffin tin filling each cut 3/4 full.
Bake 20 minutes or until light brown on top.
When tasting your muffins if they seem to have a coarse texture it probably means you didn't stir the batter quite enough or you may have baked your muffins at too low of an oven temperature.
Here are some tips on how to freeze these muffins. It's a great way to make them ahead of time and then just reheat and server.
Here's another delicious and healthy muffin recipe. This one also includes the benefits of soy. Give this cinnamon soy muffin recipe a try.
Disclosure: Some of the links below are affilate links, meaning, at no additional cost to you, I will earn a commission if you click through and make a purchase.