Beyond The Sandwich – Ideas For Picnic Main Dishes
A picnic is in the planning.  You pull your picnic basket out of its hiding place, start washing up your plastic utensils, plates, and cups.  You throw the checkered tablecloth and napkins in the wash machine and everything is ready.  Well, almost ready.
What about the food?  You can make the same sandwiches you've always made, or you could give this picnic a whole new flavor.  Bringing a good main dish on a picnic, without making it into a sandwich, doesn't have to be difficult.  You just need ideas for new ways to serve food.  Let's explore a few ways to make and bring meat, poultry, and seafood to a picnic.
Kabobs
For easy and tasty eating, consider making small shish-kabobs.  For meat eaters, cut lean cuts of  beef or pork into small chunks, then marinade in a variety of flavors, herbs, and spices.  Grill your kabobs at home, then pack up and you're ready to go.  Each bite is like a miniature grilled steak.
A great thing about kabobs, besides the ease in eating, is you can marinade the pieces of meat in several different bowls using flavorings that suit different people.  For instance, if you have guests who enjoy Cajun, mix up bowls of spicy combinations of ingredients like cayenne pepper, cumin, hot sauce, brown sugar, and oil.  For the youngsters, a less spicy marinade may be in order.  The idea is, you can have more than one choice.
Along with beef and pork, poultry and seafood are a natural choice for kabobs.  Pieces of chicken or turkey can be either marinaded or coated with a crunchy topping.  Treat them like you would fried chicken.  Include a little grated Parmesan cheese for a very kid-friendly taste.  If you like the flavor of Buffalo Wings, go ahead and spice them up with hot sauce, then be sure to have bleu cheese dip along for the whole experience.
Whole shrimp is what shish-kabobs were made for.  You don't need to add a lot of seasonings to make people clamor for the skewers with the shrimp attached.  If you wish, however, you can marinade the shrimp for a different flavor.  Again, grill the shrimp quickly at home and let them cool before wrapping them for your picnic basket.
Hearty Hors d'oeuvres
Consider some of your favorite meaty appetizers for your next picnic.  Create beautiful pinwheels out of thinly sliced beef strips covered in cream cheese flavored with shallots, black pepper, cumin, and finely shredded sharp Cheddar cheese.  Use ham slices to wrap up asparagus tips along with strips of baby Swiss cheese.  You can even make a Ruben pinwheel by mixing a little sauerkraut in cream cheese and Thousand Island dressing and roll up with ham or corned beef, thinly sliced.  Be creative and mix and match ingredients.
Think about making a nice big stack of beef or pork meatballs, then serving them with toothpicks.  Or how about your favorite little potluck weenies?  Make them ahead of time in your favorite barbecue sauce, then remove and let cool.  Bring in a container with skewers or toothpicks for serving.  Another very hearty hors d'oeuvre is large kielbasa or bratwurst chunks, cut on the diagonal, and simmered in sauce or grilled.
Crostini or toast points is another familiar way to serve hearty hors d'oeuvres.  Top crostini with slivers of roast beef, arugula, feta cheese, and a drizzle of olive oil.  Smoked salmon is also the perfect topping, along with a little cream cheese and a thin slice of sweet onion.  Fresh tuna, diced, then marinaded in olive oil, white wine vinegar, lime juice, sesame oil, and cilantro can be served on toast points as another satisfying seafood dish.  Of course, don't forget the shrimp.  A simple bowl of  peel-and-eat shrimp with a few dipping sauces is perfect for a picnic on a hot summer day.
Salad Mains
No discussion of new ways to serve meats, poultry, and seafood at a picnic would be complete without talking about salads.  Big bowls of fresh greens make an excellent base for many meat dishes.  A classic combination of meat and salad greens is a taco salad.  Flavor up shredded or ground beef and pork and go from there.  Choose anything you would typically put in a taco and turn it into a salad.  For a picnic, pack the meat and other ingredients separately from the salad, then combine before serving.
Shredded or diced chicken or turkey can be combined in a variety of salads.  Poultry goes especially well with fruit.  Consider starting with a bed of greens then adding grapes, pineapple, apple, or even grapefruit sections, along with a variety of crunchy vegetables and nuts along with your poultry.
Flaked fish over a bed of cabbage marinated in balsamic vinaigrette is a fun salad for a picnic.  Make sure the fish is a good solid texture.  You can also use shrimp or crabmeat to create wonderfully satisfying main courses using crunchy salad greens and other vegetables or fruit as a base.
A picnic needs a main attraction, but it doesn't have to be a big sandwich or even a chicken drumstick.  Re-think your main dish and serve your meat, chicken, or seafood in new ways that are both fun and tasty.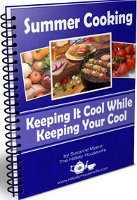 p.s. Summertime cooking calls for cool cooking. Whether you're grilling something scrumptious, tossing a tasty salad, or piling a sandwich high with goodies, you need recipes and ideas.
We've put together a nice collection of tips for cooking cool along with recipes for everything from grilled meats, vegetables, and desserts (yes, desserts!), to fruit salads, veggie salads, rice salads, and bean salads.
Put away your cast iron Dutch oven, your roasting pans, your soup pots… it's time to cook cool! Click on this link and order your copy of Summer Cooking – Keeping It Cool While Keeping Your Cool for ONLY $7 and start enjoying cool cooking today!
Disclosure: Some of the links below are affilate links, meaning, at no additional cost to you, I will earn a commission if you click through and make a purchase.