Beef And Bean Burrito Recipe
This is a great family friendly recipe for busy weeknights. We love these beef and bean burritos around here. They are flour tortillas filled with taco seasoned ground beef and refried beans. A little cheese is added as well, but you can also do without if you're in a pinch. It's a filling meal that's great for dinner or lunch.
Bean & Beef Burritos
Ingredients
Taco Filling (from [url href="http://www.hillbillyhousewife.com/tacos.htm"]my taco recipe[/url] or your own)
15 oz can of refried beans or 2 cups of cooked mashed pinto beans (thick)
10 large flour tortillas
Shredded cheese
Instructions
First prepare the recipe for Taco Filling, in a large skillet. When it has simmered a few minutes, open up the can of refried beans, or mash enough cooked pinto beans with a fork or in a food processor to equal 2 cups. Add the beans to the skillet. Stir it up to combine all of the ingredients. It will have a very familiar texture, perfect for filling the tortillas.
To heat the tortillas, you can wrap the stack of them in tin foil and bake them in the oven at 400° for about 15 minutes, or you can use my method. Heat a clean dry skillet over medium-high heat. Then take a tortilla and lay it on the skillet for a few moments, until it is warm to the touch. Flip the tortilla and warm the other side the same way. Stack them on a plate and continue until all of them are done. It doesn't take very long, and they seem to be easier to handle this way.
Spoon some burrito filling into the center of each warm tortilla. Top with cheese and any other things you like, salsa, sour cream or yogurt, lettuce, etc. Roll the tortilla around the filling, tucking in the ends like an envelope.
Serve warm with a tossed salad, tangy dressing and cornmeal muffins. Add a nice fruit cobbler for dessert. This recipe serves 5 or 6 people.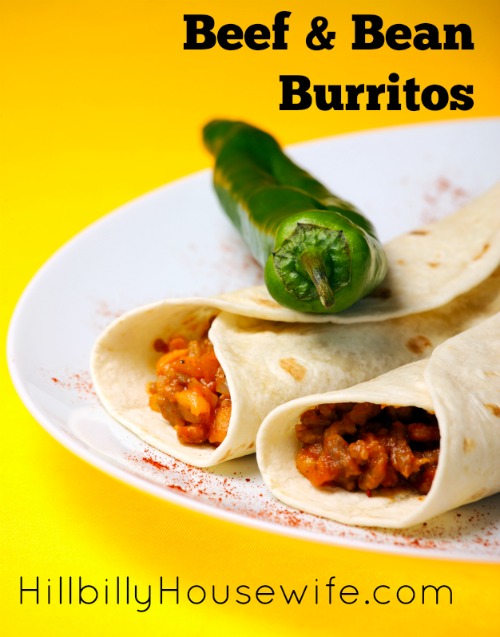 The Hillbilly Housewife Recommends – Dining On A Dime

The Dining On A Dime Cookbook is packed with over 1,200 money saving recipes and tips, kids tips and snack ideas, gift baskets, menus, food storage directions, Cleaning Cents and Pretty for Pennies. The recipes are easy to cook with ingredients that you probably already have in your pantry. To make shopping easy and economical, it also includes a pantry list and a shopping list.
Order your copy today at http://www.hillbillyhousewife.com/dime
Disclosure: Some of the links below are affilate links, meaning, at no additional cost to you, I will earn a commission if you click through and make a purchase.