Beans and Rice Mix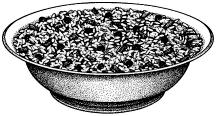 1 cup long grain brown rice
1 tablespoon dry onion flakes
1 tablespoon dry celery
1 tablespoon dry green pepper
1/4 teaspoon garlic powder
2 vegetable or other flavored bouillon cubes
Dash red pepper flakes, or cayenne pepper
1/4 cup bacon bits OR sausage flavored TVP
Combine the brown rice and all of the other ingredients in a resealable plastic container. I like to use zip-lock bags. Label and Seal and the container. Store on the pantry shelf. This is enough for 1 package of mix. Make several at a time for the most convenience.
To Prepare:
2-1/2 cups water
15 oz can of beans (any kind:  Kidney, Black-Eyed Peas, Pintos, Chick Peas, Black Beans whatever you have on hand)
1 or 2 tablespoons olive oil
1 tablespoon soy sauce (optional, but good)
1 package of Homemade Bean and Rice Mix
In a 2 quart sauce pan, bring the water and undrained, canned beans to a boil. Stir in the oil and soy sauce as it heats. When the mixture boils, stir in the package of Beans and Rice Mix. Stir it all up, put on a good lid and reduce the heat to very low. Cook the mixture for 45 minutes over low heat.
Serve with cucumbers, fresh fruit, and warm tortillas. I like vinegar sprinkled on mine, although red pepper sauce is good on it too. Red kidney beans or black beans make the prettiest dish, but any type of beans can be used. If desired, you can put a package of the mix in a brown paper lunch bag, and then place a can of beans in the bag beside it. This would keep the mix and the beans together in one place, so you don't' have to hunt for canned beans when you are ready to prepare it. Be sure to label the paper bag if you go this route.
How about a yummy bean soup recipe next? Try this easy 5 can bean soup.
Disclosure: Some of the links below are affilate links, meaning, at no additional cost to you, I will earn a commission if you click through and make a purchase.