Bean Cheese and Rice Squares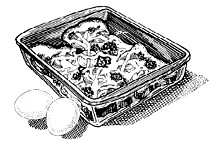 2 cups cooked, drained beans (or use a 16 oz can of beans, rinsed and drained)
2 medium eggs
1 cup milk
1 teaspoon Worcestershire Sauce
1/2 teaspoon dry mustard
1 small onion, minced OR 1 tablespoon dry onion
1 cup cooked rice
1 cup shredded cheddar cheese
I like to use kidney beans or black beans for this recipe, but any type will do. You may use cooked beans or canned beans, whichever is more convenient for your. Drain the beans well, and rinse them if they are canned. This gets rid of extra sodium, and makes the beans prettier for the recipe. In a large bowl combine the eggs, milk, Worcestershire Sauce and dry mustard. Mix very well. Add the beans, onion, rice and cheese. Turn the mixture into a well oiled 8 inch square pan. Bake at 325° for 45 minutes. The mixture should be set like a custard. Serve hot with a cool salad. This recipe is chock full of protein. It is also a good one for folks learning to eat more beans and less meat. This recipe serves about 4. If you double the recipe, then bake it in a 9 by 13-inch pan.
As a reader was gracious enough to point out to me, this recipe is not strictly vegetarian because Worcestershire sauce is made with small amounts of anchovy. There are vegan varieties available at most health food stores, so if you are vegetarian, or cooking for a vegetarian, then be sure to use Vegetarian Worcestershire Sauce in this recipe.
Here's another great recipe for you … my lima bean and ham stew. And don't forget about these other frugal bean recipes.
Disclosure: Some of the links below are affilate links, meaning, at no additional cost to you, I will earn a commission if you click through and make a purchase.