Basic Yellow Mustard
Have you tried making your own mustard? It's a fun little project and you end up with something that tastes more like a gourmet mustard than the bright yellow stuff in the bottle. All it takes is some mustard seeds, vinegar, water, salt and pepper.
If you're growing mustard greens in the garden, let a few of them grow to maturity and harvest the seeds to do this. Otherwise, you can find mustard seeds at the grocery store, or order them from Amazon.
Basic Yellow Mustard
Ingredients
1/2 cup yellow or black mustard seeds
3/4 cup apple cider vinegar
1/3 cup water or flat beer
1-1/2 teaspoon sugar
1-1/2 teaspoon salt
Instructions
Soak seeds in vinegar and water or beer for 2 days.
Place mixture in blender along with sugar and salt and puree until almost smooth. Add water if needed for desired consistency.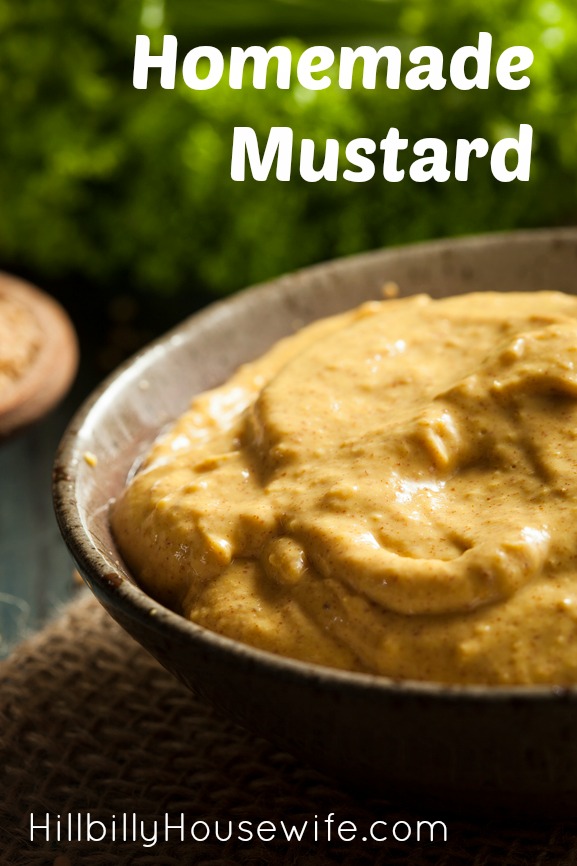 Mustard will be very spicy, but will mellow after a day or two in the refrigerator.
NOTE: To make an herb mustard, add 1 teaspoon of herb of your choice with the sugar and salt.
For Honey Mustard: add honey to completed mustard at a 1:1 ratio.

Highly Recommended – Penny Pinching Mama
Find out how Jill Cooper lived on $500 per month. This e-book is filled with over 500 practical, everyday ideas to help anyone stretch a small income.
Get your copy today at:
www.HillbillyHousewife.com/penny
Disclosure: Some of the links below are affilate links, meaning, at no additional cost to you, I will earn a commission if you click through and make a purchase.