Baking Made Simple – Day 3 of the HBHW Advent Calendar
One of our favorite traditions is each is to bake Christmas cookies and special pies for the Holiday Season. Christmas Day wouldn't be the same without French Toast Casserole made with homemade bread for breakfast or Sweet Potato Pie for dessert.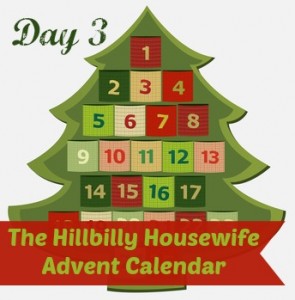 Leading up to Christmas there's lots of baking to be done, cookies, brownies, quick breads and the likes all make wonderful last minute gifts and of course we need plenty of baked goods for parties and holiday get-togethers. Ready to dig in and put all that flour to work?
Today's Advent goodie is a 50% off coupon for the entire Baking Made Simple Cookbook Collection. You can get all 5 digital cookbooks plus 3 bonuses at half the price with coupon code ADVENT at http://www.hillbillyhousewife.com/ebooks/baking.htm.

ahhh… the aroma of fresh baked bread. Is there anything better? Well, yes there is! How about the aroma of pies, cookies, muffins, cupcakes, brownies, cakes, and bread, too, ALL coming out of your own oven, piping hot and delicious!
If you've been a bit shy about starting to bake bread or other goodies, Baking Made Simple is the perfect place to start. This collection covers all your favorite baked goods, from bread to brownies, cookies to cupcakes, and more. You'll find recipes to get you baking fast and easy, with tasty results every time!
Along with hundreds of recipes, you'll also get detailed instructions for producing excellent doughs, pastries, and batters, as well as advice on just what baking essentials you'll need. You can start as simply as you wish, or dig in and set your kitchen up to rival any professional bakery.
Don't wait any longer to start baking with your family! Click on and order your copy of Baking Made Simple now and enjoy the warm, comforting aroma of fresh baked goodies in your very own kitchen today!
Don't forget to use coupon code ADVENT  to save 50% on the Baking Made Simple eBook – today only!
Susanne – The HillbillyHousewife
P.S. I'l be back tomorrow with another fun Advent goodie for you.
Disclosure: Some of the links below are affilate links, meaning, at no additional cost to you, I will earn a commission if you click through and make a purchase.