Baked Mostaccioli
1 cup onions chopped
1 tablespoon vegetable oil
2 1/2 tablespoons parsley dried flakes, crushed*
1 teaspoon garlic minced
1 28-ounce can tomatoes undrained
2 teaspoons oregano dried leaves, crushed*
1 teaspoon sugar
1/2 teaspoon basil leaves dried, crushed*
1 cup petite peas thawed
1 8-ounce package mostaccioli (about 2 1/4 cups)
3/4 pound ground beef
1/4 teaspoon salt
1 cup ricotta cheese
1/4 cup Parmesan cheese grated
4 ounces mozzarella cheese shredded (about 1 cup)
This recipe makes 6 servings.
Preheat oven to 350 F. Grease a 2-quart oblong baking dish.
In a 10-inch skillet over medium-high heat, saute onion in oil until almost tender. Add parsley and garlic. Cook for 3 minutes.
Meanwhile, place tomatoes with juice in a blender container. Cover and blend until tomatoes are chopped. Add to sauted vegetables along with oregano, sugar and basil. Cook and stir for 12 minutes.
Stir in peas. Cook 3 to 5 minutes longer or until mixture is reduced and thickened.
Meanwhile, cook pasta according to package directions; drain and set aside.
Meanwhile, in a second skillet over medium-high heat, brown ground beef until no longer pink. Drain off fat. Sprinkle with salt.
In a large bowl, stir together pasta, meat and one-half of the sauce. In a medium bowl, mix ricotta and Parmesan cheese.
To assemble, place half of the pasta mixture in baking dish. Spread with ricotta mixture. Add remaining pasta mixture and top with remaining sauce.
Bake for 20 to 25 minutes or until very bubbly.
Sprinkle top with mozzarella cheese. Bake 3 to 5 minutes longer or until mozzarella melts.
*If using fresh, use three times the amount of dried herb or to taste. Fresh herbs should be chopped or minced.
The Hillbilly Housewife Recommends:  Secret Restaurant Recipes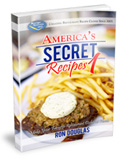 Don't spend a fortune going out to eat. Instead enjoy some of your favorite restaurant fare at home for a fraction of the cost.
These recipes are also perfect for dinner parties or a fun and special family dinner.
Get your copy today at:
Disclosure: Some of the links below are affilate links, meaning, at no additional cost to you, I will earn a commission if you click through and make a purchase.