Baked Chicken in Honey Sauce
1/4 cup butter or margarine
1/4 cup honey
1/4 cup orange juice concentrate
2 tablespoons lemon juice
1 tablespoon mustard prepared
1 teaspoon salt
1 teaspoon curry powder
1 broiler-fryer chicken (3 to 4 lb.), cut up
1 tablespoon water cold
1 teaspoon cornstarch
This recipe makes 6 servings.
Preheat oven to 375 F.
Melt butter or margarine in a 13 x 9 x 2-inch baking dish. Add honey, orange juice, lemon juice, mustard, salt and curry powder. Mix well. Coat both sides of chicken pieces with honey mixture and place, skin-side down, in baking dish.
Bake for 30 minutes, basting occasionally. Turn chicken over and bake 30 minutes longer or until chicken tests done. Transfer chicken to a warm platter; cover and keep warm.
Transfer honey mixture to a small saucepan. In a small bowl or cup, mix cold water and cornstarch until smooth. Pour into honey mixture. Stirring over medium heat, bring to a boil and boil for 1 to 2 minutes.
Drizzle honey sauce over chicken and serve with fluffy hot rice.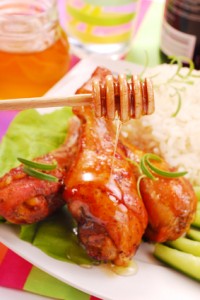 The Hillbilly Housewife Recommends – Dining On A Dime

The Dining On A Dime Cookbook is packed with over 1,200 money saving recipes and tips, kids tips and snack ideas, gift baskets, menus, food storage directions, Cleaning Cents and Pretty for Pennies. The recipes are easy to cook with ingredients that you probably already have in your pantry. To make shopping easy and economical, it also includes a pantry list and a shopping list.
Order your copy today at http://www.hillbillyhousewife.com/dime
Disclosure: Some of the links below are affilate links, meaning, at no additional cost to you, I will earn a commission if you click through and make a purchase.