Bagel French Toast
Ready for a little change in your french toast? How about making it with a bagel instead? Since bagels are already nice and chewy, it makes an awesome slice of french toast. Sere them with a drizzle of maple sirup, topped with fresh fruit, or a bit of jam or jelly. This makes for a great filling weekend breakfast.
Bagel French Toast Recipe
Ingredients
2 plain bagels, sliced into thirds horizontally
¼ cup milk
2 large eggs
½ tsp ground cinnamon
¼ tsp ground nutmeg
1 tbsp butter
Instructions
In a shallow dish, beat the eggs, spices and milk. Place the bagel slices into the mixture to soak for about ½ hour. Turn the bagels once to cover both sides.
Melt the butter in a large skillet. Fry the bagel slices on both sides until golden.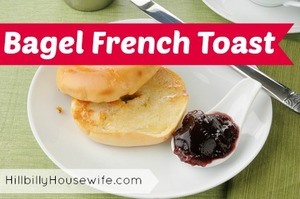 Disclosure: Some of the links below are affilate links, meaning, at no additional cost to you, I will earn a commission if you click through and make a purchase.