Bacon Gravy
We love biscuits and gravy around here. I make it from either sausage or bacon. Every once in a while I even go crazy and use a little of both. This recipe is pretty easy and it is good too. Great over biscuits for breakfast or lunch. But who am I kidding, we enjoy bacon gravy biscuits for dinner as well.
Bacon Gravy Recipe
Ingredients
2 to 4 ounces bacon, cut into small pieces OR 1/4 cup bacon grease (see note below)
1/3 cup flour
1/2 teaspoon salt
1/8 to 1/4 teaspoon black pepper (to taste)
1 teaspoon sugar
3 cups milk
Instructions
First cut the bacon into small pieces. Put it into a large skillet and fry it over medium heat. The bacon will release it's fat.
When the bits of bacon are well browned stir in the flour. Continue stirring until the flour absorbs all of the fat.
Add the salt, sugar and black pepper. Start out with the smaller amount of pepper and add more later if desired.
Slowly stir in the milk. Use a whisk or a fork to prevent lumps. Continue stirring until the gravy boils.
Allow it to boil gently for about 5 minutes. It will thicken nicely.
Serve over toast or biscuits or mashed potatoes.
NOTE: If you don't have bacon, but you do have bacon grease, then use 1/4 cup of bacon grease instead of the bacon. Heat it in the skillet until it is bubbly. Stir in the flour and proceed as directed.
Sausage Gravy 
Follow the same recipe but use ground sausage instead. I crumble it up and cook it like ground beef. For extra flavor, I like to add a little bacon grease when I have it.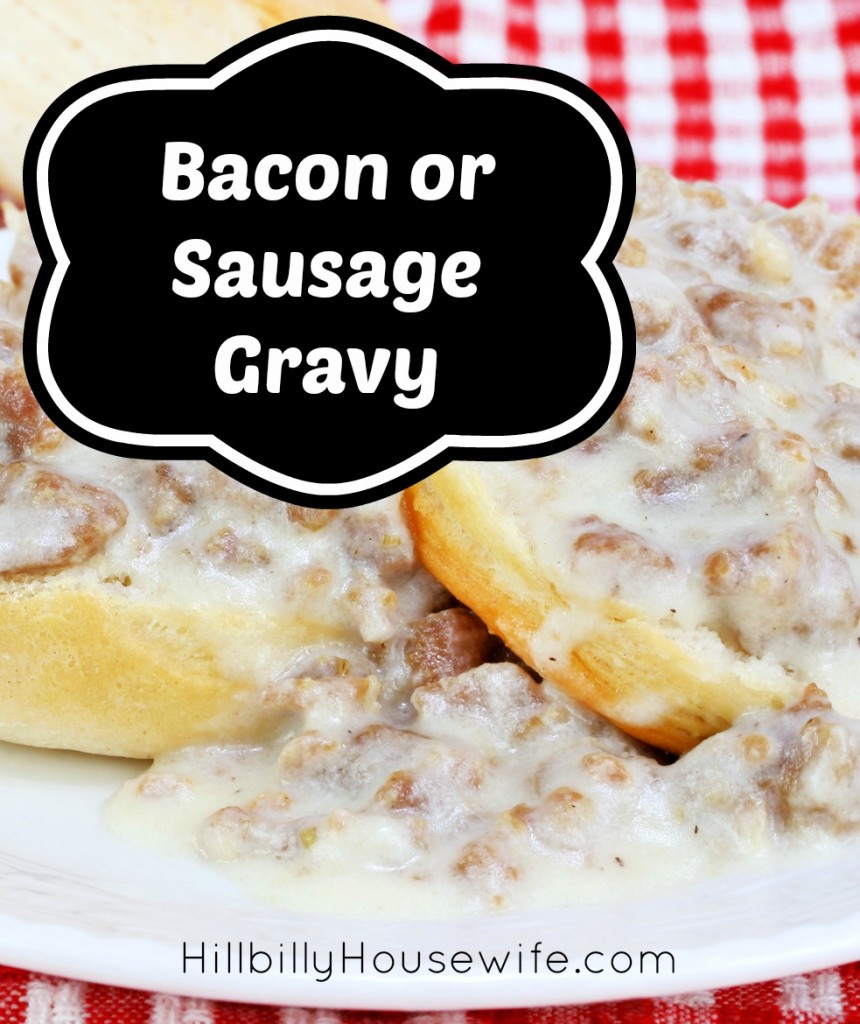 The Hillbilly Housewife Recommends – Dining On A Dime

The Dining On A Dime Cookbook is packed with over 1,200 money saving recipes and tips, kids tips and snack ideas, gift baskets, menus, food storage directions, Cleaning Cents and Pretty for Pennies. The recipes are easy to cook with ingredients that you probably already have in your pantry. To make shopping easy and economical, it also includes a pantry list and a shopping list.
Order your copy today at http://www.hillbillyhousewife.com/dime
Disclosure: Some of the links below are affilate links, meaning, at no additional cost to you, I will earn a commission if you click through and make a purchase.