Bacon, Egg and Potato Skillet
My mom used to call this a farmer's skillet, which makes sense since everything you need to make this hardy breakfast dish come from the farm, including the bacon, eggs, potatoes, veggies and cheese.
Serve this for breakfast or pair it with a nice salad and call it dinner. Either way it's hard to find someone who doesn't love this skillet dish.
Bacon, Egg and Potato Skillet
Ingredients
½ lb sliced bacon
1 red bell pepper, diced
4 cups potatoes, peeled and cubed
½ onion, chopped
6 eggs, beaten
1 cup Monterey Jack cheese, shredded
Instructions
In a large skillet, cook the bacon until crisp and nicely browned.
Remove the bacon from the skillet and set aside.
Add the potatoes, red bell pepper and onion to the skillet and cook in the bacon fat until the potatoes are soft. This should take about 10 – 15 minutes.
Cut the bacon into small pieces and stir into the potato mixture.
Add the eggs, cover and cook until the eggs are set.
Top with the cheese and serve immediately with fresh tomato slices.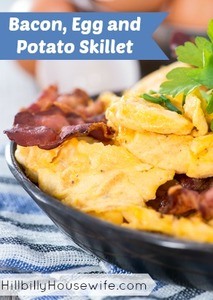 Disclosure: Some of the links below are affilate links, meaning, at no additional cost to you, I will earn a commission if you click through and make a purchase.