Babka Recipe – Ukrainian Sweet Bread
If you are subscribing to my weekly newsletter, you know that my friend Christine is hosting a boy from the Ukraine this summer. I thought it would be fun to give a few Ukrainian recipes a try. Let's start today with a sweet bread called Babka.
Ukrainian Babka Recipe
2 teaspoons sugar
1/2 cup warm water
2 packages active dry yeast
1 cup milk
 1 cup all-purpose flour
6 eggs
1 teaspoon salt
1 cup white sugar
1 cup butter, melted
2 tablespoons lemon zest
5 1/2 cups bread flour
1 cup raisins
Start by getting the yeast started. Mix the sugar, water, yeast,  milk and the cup of all purpose flour together in a small bowl. I use a fork to whisk it all together. Set it aside in a sunny, warm spot for about 30 minutes or until it starts to bubble up.
Next, get out a large bowl and crack your eggs into it. Add the sugar and salt and beat with a hand mixer until they are fluffy and a light yellow color.  Add the melted butter (I melt mine in the microwave) and the lemon zest. Stir until well combined. Add the yeast mixture and stir again.
Gradually add the flour, stirring with a large spoon at first, then using your hands as the mixture becomes harder to move around. Once all the flour has been added knead the dough for 10 minutes. Don't skip this and don't cut the time short… give it your all for those 10 minutes. It'll be well worth it in the end.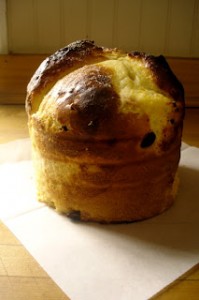 Work the raisins in (kneading again until they are distributed well throughout the dough), then form the dough into a ball and cover your bowl with a tea towel. Let it rise in a warm place until it's twice as big. Time will depend on how warm it is and even humidity. This could take anywhere from one to three hours.
Punch down dough and knead for a couple of turns then let it rise again for about 30 more minutes.
Grease 4 smaller coffee cans with butter. Add enough dough to each to to fill them about 1/3 of the way. 1/4 of your dough should do the trick. Cover the cans and let them sit in a warm place until the dough has risen all the way up to the rim.
Preheat your oven to 400 F. Place the coffee cans on a cookie sheet and bake the babka for 15 minutes. Turn the heat down to 350 F and bake for another 35 to 46 minutes. If needed, cover the tops with aluminum foil (if they start to brown to quickly). Take everything out and let the finished bread cool in the coffee cans. Slice it and serve with butter and jam. Yum!
Disclosure: Some of the links below are affilate links, meaning, at no additional cost to you, I will earn a commission if you click through and make a purchase.