Apricot Coffee Cake Recipe
I made this apricot coffee cake yesterday and just had to share. It is very yummy and certainly pretty enough for company. I used fresh apricots that I peeled, seeded and chopped. You could also use copped dried apricots that have been soaked in a little water.
Apricot Coffee Cake Recipe
Ingredients
3/4 c. softened margarine
1 1/2 c. brown sugar
2 eggs
1 tsp. vanilla
2 1/4 c. flour
2 tsp. baking powder
1/2 tsp. each of baking soda, salt & cinnamon
1 c. sour cream
1 c. chopped apricots
1/2 cup chopped pecans
2 tbsp brown sugar
1 tsp cinnamon
Instructions
Get out a small but sturdy bowl and add the margarine and brown sugar. I usually set the margarine out first so it has a chance to soften up on the counter before I start baking. Then I go about gathering the rest of my stuff and preheating the oven. For this cake you want to go ahead and preheat your oven to 350 F.
While you're at it, go ahead and spray a bunt cake pan with non-stick cooking spray. Set it aside and let's get back to making the cake.
Get out a hand mixer and cream your margarine and brown sugar until you end up with a light yellow and fluffy mixture. Add your eggs and vanilla and beat again until everything is well incorporated and fluffy. Stir in the sour cream and set the mixture aside.
In a large bowl, combine your flour, baking powder, baking soda, salt and cinnamon. Give everything a good stir with your favorite wodden spoon.
Pour the egg, butter and sugar mixture into your large flour bowl. Grab the hand mixer and set it on the lowest setting. Once most of the flour is incorporated into the wet mixture, change it to medium and beat the batter until it is nice and smooth.
Get your wooden spoon back out and gently fold in 1 cup of chopped apricots. I like to use fresh ones for this cake, but you could substitute dry apricots soaked in a bit of water to soften them up.
Pour the batter into your bunt pan and top with 1/3 chopped pecans, 2 tbsp bown sugar and 1 tsp of cinnamon.
Bake in a 350 F oven for 50 minutes.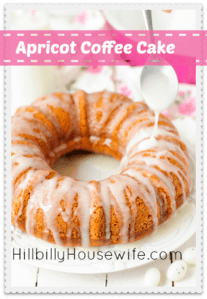 I was planning on taking a picture of the finished cake for you, but we ended up devouring it before I remembered 🙁
Disclosure: Some of the links below are affilate links, meaning, at no additional cost to you, I will earn a commission if you click through and make a purchase.