Apple Spice Muffin
I love a nice warm muffin with my coffee in the morning. These muffins here are easy to make and pretty good for you. The pumpkin and pumpkin spice add a nice touch to a traditional apple cinnamon muffin. They are perfect in the fall, but I like them year around. If you're not a big fan of pumpkin, feel free to replace the pumpin puree with apple sauce.
These muffins freeze really well. Make a batch or two and freeze them. Whenever you're in the need for a sweet treat, pull one out, thaw it and if you like, warm it up in the toaster oven or microwave for a bit.
Apple Spice Muffin
Ingredients
2 1/2 C all purpose flour
2 C sugars
1 T pumpkin pie spice
1 tsp baking soda
1/2 tsp salt
4 egg whites
1 C canned pumpkin
1/2 C canola oil
2 C apples, peeled and chopped fine
1 C sugar
1 tsp cinnamon
Instructions
Preheat the oven to 350 degrees.
Lightly coat the muffin cups with a non stick cooking spray.
Place the flour, sugar, pie spice, baking soda and salt in a large mixing bowl.
Blend all the ingredients together well.
In a separate bowl combine the egg whites, pumpkin and oil being sure to mix well.
Add the pumpkin mixture to the flour mixture.
Mix well to moisten but don't over mix.
Fold in the apple pieces.
Bake 30 minutes or until a golden brown and a toothpick tests clean.
Mix the 1 C sugar and 1 tsp cinnamon together in a small bowl being sure it is mixed together well.
Remove from pan while still hot.
Rub the top of the muffins in the cinnamon mixture.
Cool slightly before serving.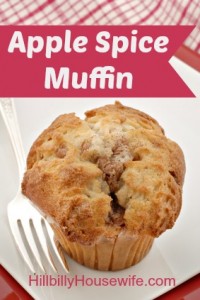 These make great treats for those ghosts and goblins to take home for a Halloween treat. You can even make them a few week's ahead of time, pop the muffins in the freezer, and then just thaw the day of the party.
Try making these Thanksgiving muffins next. This is another muffin that freezes well.
Disclosure: Some of the links below are affilate links, meaning, at no additional cost to you, I will earn a commission if you click through and make a purchase.