Apple Cheddar Cheese Casserole
A friend of mine use to make this wonderful casserole and it had apples and cheddar cheese…I would have multiple servings when we would have get-togethers. I never got the recipe and wish I did. Does anyone have a recipe that might have these things in it?
Thanks
Deborah
From The Hillbilly Housewife:
I tried a few of the recipes below and the one Laura suggested was my favorite. I'm reposting it here for easy reference.
Apple Cheddar Squares
Prep time:
Cook time:
Total time:
Ingredients
3 whole eggs
1 cup vegetable oil
1 teaspoon vanilla
1 1/2 cups sugar
2 cups all-purpose flour
1 teaspoon baking powder
1/2 teaspoon cinnamon
1/2 teaspoon nutmeg
1/2 teaspoon salt
4 apples, peeled — thinly sliced and chopped for ease in cutting finished squares
1 cup grated cheddar cheese
Instructions
Mix dry ingredients in bowl.
Beat eggs, add sugar, oil and vanilla. Add dry ingredients. Fold in apples and cheese.
Spread in greased and floured 9″ x 13″ baking pan.
Bake in preheated 350 F oven for 35 to 40 minutes. Cool. Cut into squares.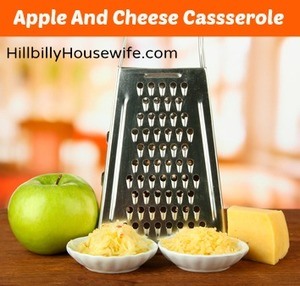 Disclosure: Some of the links below are affilate links, meaning, at no additional cost to you, I will earn a commission if you click through and make a purchase.