Almost Free Pallet Garden – Brilliant Frugal Gardening Idea
I grew up with a gardening dad. He still has a large garden and grows almost all the produce for the family. As kids, my sister and I had plenty of chores to do in the garden. It wasn't always fun and as a young adult, I was pretty sure I'd never have more than a few herbs in the kitchen window.
Fast forward a decade or two and I'm in love with my own little garden. It took a while, but I finally remembered that there just isn't anything like a home-grown tomato. Now that temperatures are cooking down here in the south ever-so-slightly, I can finally plant some lettuce and Cruciferae (cabbage plants including broccoli, cauliflower, kale etc.) 
Some of those will go in my raised beds now that the cucumbers, peas and cantaloupe plants that were living in there are done producing. I was thinking of adding another raised bed for more lettuce, when I came across this frugal idea this morning.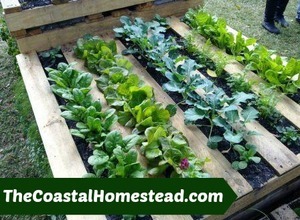 Amber from TheCoastalHomestead.com shares how she put these little garden beads together on a dime. All it takes is a pallet, some liner and some good planting soil. Amber has some pictures on how to put this garden together and even shares how she's making rich organic soil for her garden without spending a penny. Frugal gardening at it's best.
Take a look at her post about her free garden and while you're there, check out the rest of her blog. I love her concept of homesteading on a regular half-acre lot.
Disclosure: Some of the links below are affilate links, meaning, at no additional cost to you, I will earn a commission if you click through and make a purchase.