Almond Mini Muffin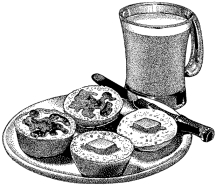 2/3 C all purpose flour
2/3 C whole wheat flour
1/4 C almonds, chopped and toasted
1 tsp baking powder
1/8 tsp baking soda
1/8 tsp salt
1/8 tsp nutmeg
1 egg, slightly beaten
1/3 C skim milk
3 T brown sugar, firmly packed
3 T canola oil
Place both types of flour into a large mixing bowl.
Toss to mix together.
Add the almonds, baking powder, baking soda, salt and nutmeg and mix well.
In a separate bowl mix the egg and milk together.
Add the brown sugar and oil and mix until all the ingredients are incorporated together.
Pour the egg mixture into the dry ingredients.
Stir with a wooden spoon until just moist.
Preheat oven to 400 degrees.
Spray a mini muffin tin with a non stick cooking spray.
Pour the batter into each muffin cup filling it 3/4 full.
Bake 10 minutes or until a golden brown.
To ensure a perfect muffin always stir the batter with a wooden spoon and be sure to stir gently. Over stirring or using a metal spoon can cause the muffins to become hard while baking.
This is a great freezer muffin recipe, as are these carrot muffins. Here are some tips on how to freeze these muffins. It's a great way to make them ahead of time and then just reheat and server.
Disclosure: Some of the links below are affilate links, meaning, at no additional cost to you, I will earn a commission if you click through and make a purchase.