All Fruit Mincemeat
This is a reader submitted Holiday Recipe for Mincemeat. Great for making mincemeat pies.
4 cups unpeeled chopped apples – Granny Smith or similar;
2 cups raisins – chopped
l cup dried apricots – chopped
6 oz can frozen apple juice concentrate
1/4 cup honey
l.l/2 tsp. Allspice
l/2 tsp. salt
2 Tbs. Brandy or Rum (optional)
In a large saucepan, stir together the apples, raisins, apricots, apple-juice concentrate, water, honey, allspice and salt. Bring to boiling, reduce heat. Cover and simmer for 50 minutes, stirring occasionally. Uncover and simmer for 10 – 15 minutes more or till liquid has nearly evaporated, stirring occasionally. Stir in the brandy or rum. Cool. Store covered in refrigerator.
If you like to make Mince Pies or cookies, this recipe is a great substitute for the expensive kind found in the grocery stores.
Source – CDKitchen.com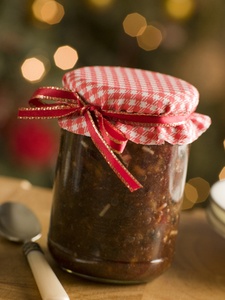 Disclosure: Some of the links below are affilate links, meaning, at no additional cost to you, I will earn a commission if you click through and make a purchase.