African Safari Pilaff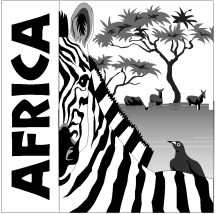 1 pound ground beef
1 onion, chopped
2 cloves garlic, minced OR 1/2 teaspoon garlic powder
1-1/2 teaspoons curry powder
1 cup dry white rice
3 cups water
2 bouillon cubes
1/2 teaspoon salt
1/4 teaspoon ground ginger
3 tablespoons peanut butter
1 tablespoon honey or sugar
1/3 cup raisins
1/3 cup peanuts or coconut or both (optional)
Get out a big skillet with a good lid. Fry the hamburger, onions, and garlic in it, breaking the hamburger up into small pieces as you go along. Make sure you cook it all the way through. Drain off any fat if necessary. Add the rice and sautè it around until it looks a little toasty, about 2 or 3 minutes. This step isn't strictly necessary, but it does improve the texture. Add the water, bouillon, salt, ginger, peanut butter, honey and raisins. Bring the mixture to a boil. Reduce the heat to low. Cover the pan with a good lid or even a pizza pan, if you don't have a lid handy. Simmer the mixture for about 20 minutes, or until the rice is tender. If it seems dry, then add a little extra water towards the end. Serve the mixture in bowls, with a few peanuts or coconut sprinkled on top if desired. Serve this with sliced tomatoes, pickles, and baked custard, or tapioca pudding.
I found a version of this recipe in a cookbook from the early 70's. I doctored it up a little, to make it more affordable and served it to the family on Foreign Food Night. The kids were suspicious at first. Fred said it smelled really good, and dug in with gusto. The kids tolerated it pretty well after the first few bites. I recommend this dish for families who are tired of the same old hamburger combinations. It is sweet, spicy, friendly with the taste buds, and the textures are quite expertly combined. Highly recommended for adults and experimental children.
Disclosure: Some of the links below are affilate links, meaning, at no additional cost to you, I will earn a commission if you click through and make a purchase.