Advent Calendar Day 8 – The ABCs of Gift Giving
We're getting closer and closer to Christmas Day. Yesterday I shared an idea with you on how to raise some extra money to buy presents for your loved ones. Today, I'd like to share a whole bunch of ideas for frugal gift ideas with you.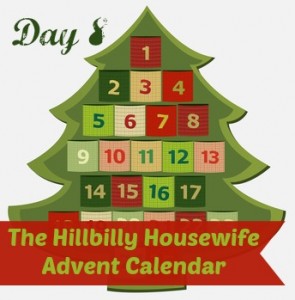 A few years ago we talked about Christmas gifts in the now defunct Hillbilly Housewife Club. We all contributed ideas and came up with the ABCs of Gift Giving. I compiled it all in a small little eBook and would like to share it wit you today. You can download it free below. The ABCs Of Gift Giving (pdf) Browse through the ideas and make a list of things you would like to make or get for loved ones this year. I have plenty of time today for a little secret crafting. My husband is away for the day and my daughter is staying late in school for choir practice. With a little luck, I can finish a sweater I've been working on for her and start to knit a pair of fingerless gloves for my husband. I've been playing Christmas music as I go about my daily chores. There's just something fun about listening to old favorites and singing along. Do you have a favorite Christmas album, or a particular song you like? Leave me a comment and share your favorites.
Disclosure: Some of the links below are affilate links, meaning, at no additional cost to you, I will earn a commission if you click through and make a purchase.