Advent Calendar Day 5 – Cook Once, Eat Twice
December is always a busy time of the year for us. There are school plays, Christmas parties, Holiday Events and of course a lot of extra shopping on the calendar. All this extra "stuff" makes it hard to keep up with all the usual chores and still have time to enjoy Advent and Christmas.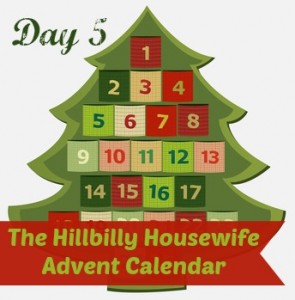 One of my "tricks" is to make my life easier whenever I can. I shop ahead of time and do as much of it as I can online. It's a bit like magic… I order the stuff and it shows up on my doorstep a few days later. I also make dinner as easy as possible. We enjoy some freezer and crockpot meals through December, but the best strategy is to cook once and enjoy it for two or more meals. For example, you can make a big pot of chili and eat it two nights in a row. Or make some meatloaf and enjoy with mashed potatoes and gravy the first night, then the next night slice up the leftovers and serve over spaghetti.
Ready to give it a try? Grab today's Advent Calendar Goodie – the Cook Once Eat Twice Or More Cookbook for 50% off with coupon code "ADVENT"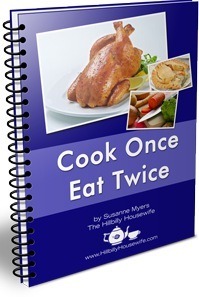 We all want to get the most out of our money, right? And we all love to get meals on the table with the least amount of effort and time spent in the kitchen. But wouldn't you also love to get out of the kitchen fast AND with a few extra meals in the fridge and freezer? Squeezing the most out of every cent you spend on groceries is what Cook Once Eat Twice is all about. Now you can learn how to cook in ways that not only put dinner on the table economically, but with plenty to spare! And, we're not just talking leftovers here… we're talking about planning meals with NEW CREATIVE meals to come. In this ebook, you'll learn about the strategies needed to get two, three, or MORE meals out of one cooking session. PLUS you'll get over 300 recipes to help you prepare a delicious plan of attack! Click on and buy Cook Once Eat Twice today to start getting the most out of every meal! Don't forget to use the "ADVENT" coupon code when you order.
Disclosure: Some of the links below are affilate links, meaning, at no additional cost to you, I will earn a commission if you click through and make a purchase.