Advent Calendar Day 4 – Cookies Anyone?
Way back in 2009 (has it really been this long?) we held a Virtual Cookie Exchange here on the Hillbilly Housewife blog. We had all sorts of delicious cookie recipes that were contributed by fellow bloggers and compiled them into a pdf document. I thought it would be fun to share those recipes with you today. Here are just a few of the recipes that are included in this free download.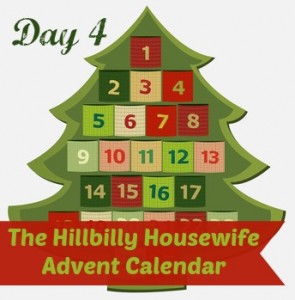 Chocolate Thumb Print Cookies
Nut Horns
Maple-Walnut Shortbread
Pecan Snowballs
Magic Cookie Bars
Triple Chocolate Cookies
Almond Bars
Lemon Drop Cookies
Tiny Green Wreaths
Chocolate Goobers
Basic Spritz Cookie
Norwegian Fatigman
Cowboy Cookies
Dirty Thumb Cookies
Fudgie Buddies
Almond Delights
Mini Fruitcake Cookies
Chocolate Chip Peppermint Cookies
Monster Cookies
Gluten Free Mock Thin Mints
Vanilla Kiperls
Apricot Slovak Cookies
Sour Cream Sugar Cookies
Whoopie Pies
Date and Nut Pinwheels
Mint Meltaways
Download The Virtual Cookie Exchange Recipe Booklet (PDF). Happy Baking!
Disclosure: Some of the links below are affilate links, meaning, at no additional cost to you, I will earn a commission if you click through and make a purchase.