Advent Calendar Day 24 – My Gift To You
Merry Christmas from my family to yours.
We're all busy today getting everything ready for Christmas, so I'll keep this brief. I wanted to share something special with you as this last Advent Calendar treat. It's my Christmas gift to you.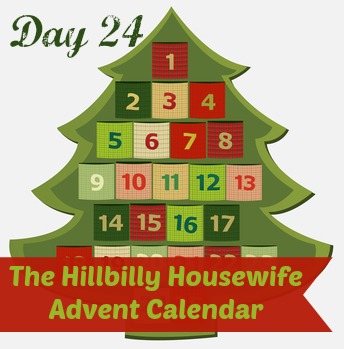 A little over  a year ago, I retired of of my big cookbook collections. It is all about freezer cooking and includes a guide and several recipe collections. It's all you'll ever need (other than some freezer containers and casserole dishes) to make delicious homecooked meals you can freeze and enjoy later.
As today's Advent calendar treat, I would like to give you the entire collection. It used to sell for $24.95, but is no longer available. I set up a special link for you and a coupon code that allows you to download it for free (through December 26th).
Freezer Cooking Made Simple
Click on this link. Then use coupon code "CHRISTMAS" – The coupon expires on 12/26/14
Here's what it will look like. After you check out, you will be redirected to a special download page and also get both the freezer cooking guide and the recipes collections via email.
I want this to be a special treat just for you since you've been reading and following the Advent Calendar throughout December, so the coupon is only good for the next two days. It will expire on 12/26/14. Go grab the freezer book now, download it to your computer and then go about the rest of your busy day. When you're ready to start reading about freezer cooking and trying out some new recipes, come back to it and use it to save both time and money throughout the new year.
My family and I wish you a very Merry Christmas and hope you are having a wonderful time over the coming days.
Disclosure: Some of the links below are affilate links, meaning, at no additional cost to you, I will earn a commission if you click through and make a purchase.