Advent Calendar Day 10 – Cookies, Cookies Everywhere
The cookie plates I took to the neighbors that I told you about a few days ago were a huge hit. Sadly between making a few extra of those and all our incredible cookie eating skills, my large Christmas cookie tin is empty again as of last night.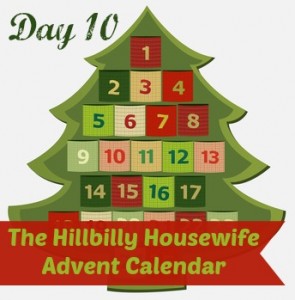 We took a vote after dinner last night on what cookies we each want the most. Looks like we're baking:
I'm off to work on today's newsletter and then get to cookie making so they are ready and waiting for an after school snack.
First though I want to share today's Advent goodie with you. In my mind I'm picturing you just as excited to see what's in your Calendar as my daughter is each morning.
Today I have another free Kindle Cookbook for you. This time it's the Christmas Cookies Cookbook which seems fitting (even though I planned this all out in late November).
Christmas time is upon us and there's just something magical about this time of year that takes us back to when we were little.
One of my favorite things has always been to have everyone gathered together to make Christmas Cookies.
We made many different types of cookies to share with friends and family to celebrate the holidays. It's one of my favorite memories and one I try to recreate every year.
This year, I wanted to share some beloved cookie recipes with you so you could build your own memories by spending quality time together as a family
 The Christmas Cookies Cookbook is a Free Download on Amazon. 
Disclosure: Some of the links below are affilate links, meaning, at no additional cost to you, I will earn a commission if you click through and make a purchase.