4 Ingredient Chicken Chili – Crockpot
Technically there are 5 ingredients if you count the water that has to be added. Never-the-less this is one of the easiest chicken chili crockpot recipes I've come across and of course very tasty.
Crockpot Chicken Chili
2 lbs of chicken thighs, bones and skin removed, cut into cubes
1 small package Taco seasoning mix
2 cans Navy beans, drained
3 cans diced tomatoes, chilies and garlic flavor – do not drain
3 cans  water (use diced tomato cans)
In your crockpot (about 5 quart size) put the ingredients in and stir gently just to combine. Put cover on crockpot and set heat to low. Cook covered for 6 to 8 hours. Stir again gently to combine before serving.
Serve with a little shredded cheese if you'd like. Last time I made this I added some leftover frozen corn tot he chili mix and it turned out great.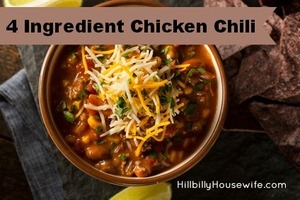 Ready to learn more about crockpot cooking? Get my Crockpot Cooking Made Simple ebook today and find out how you can work this into your meal plan, how to choose a good crockpot and most importantly how to convert your favorite recipes to work in a slow cooker.
http://www.hillbillyhousewife.com/ebooks/crockpotcooking.htm
Disclosure: Some of the links below are affilate links, meaning, at no additional cost to you, I will earn a commission if you click through and make a purchase.