Three Bean Salad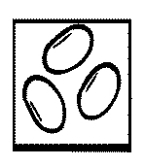 15 oz can green beans
15 oz can yellow or wax beans
15 oz can kidney beans
1 onion, sliced
3/4 cup vinegar
1/4 cup oil
3/4 cup brown sugar
pepper to taste
First drain and rinse all of the canned beans. I do this by dumping them all into a colander and running cold water over them. After draining off the rinse water, transfer the beans to a large bowl. Add the thinly sliced onions. Meanwhile, in a quart sized saucepan combine the vinegar, oil and sugar. Bring it to a boil on the stove. Remove it immediately, and pour it over the beans and onions. Add a bit of pepper if you like. Chill and serve. This recipe serves about 12 people. It keeps for several weeks in the fridge, so serve it once a week for a month if desired. It is also great for picnics because it can't go bad in the sun like mayonnaise based salads can.
To make a Vegetarian Main Dish Salad, you can replace the yellow wax beans with canned Chickpeas or Black Beans. I almost always use canned beans for this recipe because I am lazy. Using fresh or frozen beans, or cooked dry beans would be much cheaper. Use 2 cups of each type of cooked bean if you go this route.
Here's another simple bean and lentil recipe for you … it's called lentil pottage and has been around for hundreds of years.
Disclosure: Some of the links below are affilate links, meaning, at no additional cost to you, I will earn a commission if you click through and make a purchase.