30 Days Of Slow Cooking – An Interview With Tracy Roberts
I love Fall… the cooler temperatures, the comfort food, the pretty leaves… My good friend Tracy Roberts from Moms In a Blog has come up with a fun idea. She's challenging us to use our slow cookers more… for 30 days in fact and has come up with a cookbook to help us do just that. It's called "Slow Cooking Recipes For the Busy Mom" and includes menus and shopping lists. I had a few questions for Tracy and thought I'd share those along with her answers today.
Tell me about the book and the 30 day challenge.
I wrote the book because most of us aren't home all day or if we are the day is filled with taking care of the house, homeschooling the kids or working from home making it harder to recreate Grandma's meals but I have a secret weapon and it's called a crockpot (or slow cooker – what do YOU call it?)
I thought the 30 day challenge would help to bring us together as a community and share wholesome, homemade dinners made easily with a crockpot and I selfishly wanted to get recipes from other creative people. 😉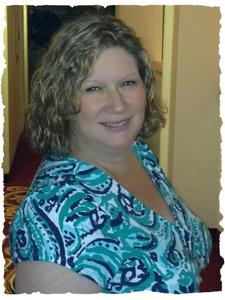 What is your favorite thing about crockpot cooking?

It's easy to do.  There's nothing easier than throwing ingredients in a slow cooker and, a couple hours later, putting something delicious on the table that everyone in the family loves.
As a work-at-home mom and home schooler, my days are filled with lots of activity, so making dinner preparation as easy as possible is what I prefer to do.
Do you have a favorite recipe to share?
I sure do… a family favorite right now is Beef Tacos.
What kind of crockpot (or crockpots) do you have?
I have several, big ones, small ones, round ones & oval ones. Some with fancy push buttons and some with dials.  Alas, I have a couple that have either a broken crock or a broken heater (I don't know it's real name 😉 ) so I think it's time to do some crockpot shopping.
Any tips for cooking more crockpot meals and making it part of a weekly meal plan?
When I don't have ingredients on hand for particular recipes, I make what's lovingly called "Stuff in a Crockpot" made from the stuff I have on hand.  It doesn't take much to make a delicious meal if you have a few staples on hand.  You can make a veggie meal or a meal with meat if you have some canned tomatoes, spices and seasonings and a starch.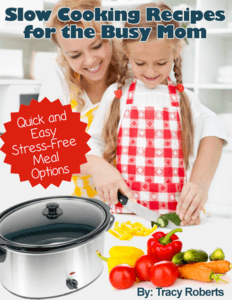 Ready to learn how to get a homemade dinner on the table and still have time to tackle everything on your to do list?
Slow Cooking Recipes for the Busy Mom ebook gives you 30 days of recipes for your crockpot plus shopping lists to make sure you have everything you need on hand for quick & easy stress-free meal planning.
There's even a private Facebook group where we'll be challenging each other to create delicious meals (and share the recipes).
Click now  and order your copy of Slow Cooking Recipes for the Busy Mom: Quick & Easy, Stress-Free Meal Options today!
Disclosure: Some of the links below are affilate links, meaning, at no additional cost to you, I will earn a commission if you click through and make a purchase.