3 Big Benefits of Homemade Cleaners
I've been hanging out with my friend Amber over the past few weeks and have been learning all kinds of neat tricks, recipes and ideas from her when it comes to all natural homemade cleaners. Amber teaches a lot of classes and workshops on this topic and has recently published a Kindle book with some of her best information and recipes for cleaning products you can make and use at home. Amber shared her 3Gs of homemade cleaners with me and I loved the concept. That's why I asked her to share them with you, which she was happy to do. Enjoy!
Why You Should Be Making Your Own Cleaning Products
This is a guest post by Amber Bradshaw of The Coastal Homestead. We have all been reading about the dangers of synthetic chemicals, dyes and fragrances, well your beloved cleaners are full of them. The only thing natural about cleaners are the added water. Making your own cleaning supplies will not only be easy to do, (almost effortless in fact) but they are Good for you, Good for the Environment, and Great for your wallet, my 3 G's. I often hear "my grandma used to clean with that" guess what? It still works! It never stopped working; we were sold by commercials that we needed something that worked quicker and easier for our busy lifestyle but you can get back to the way our ancestors used to clean and detox your life all at the same time.
My 3 G Principal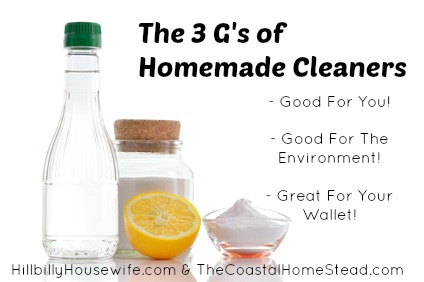 #1 G- Good for You. You may ask "why should a cleaner be good for you?" As long as it gets the job done, who cares—right? Anything that goes onto your skin goes into your body. If you're using store bought cleaners, the chances are you are exposing yourself to cancer triggering substances. In less than one minute of contact with your skin, trace elements of chemicals can be found in every organ of your body. Without sounding like a Capitol One commercial but "What's in your body?" In order to meet my first G, a cleaner is required to, on no account, be a threat to human safety when used properly. #2 G- Good for the Environment. As a nation, we are contaminating our water supply with the use (and manufacturing) of toxic chemicals. Many do not realize, but we are all drinking recycled water. The water we now consume is the same water that was around when dinosaurs roamed the earth (I tell my kids all the time they drink dinosaur pee!). What we put on our; lawns, wash on our cars, flush down our toilets, and pour down our drains, eventually, will all end up in our drinking water supply. From prescription medicines to drain cleaners, they all end up in our drinking water supply. A large portion of chemicals are impossible to filter out of our water, and some can never be removed. Be mindful of what you pour down your drains and what you flush down your toilet because eventually it will makes its way into your drinking water supply. To meet my second G's requirements, a cleaner has to: pose no threat to the environment when used properly, be biodegradable, and have a natural origin. #3 G- Great for Your Wallet. As a self-employed family of five, we have to be frugal. I would have never been able to convince my husband to support my decision, if going organic cost double what we were currently spending; we simply wouldn't be able to afford it. Truth is, if you are going to buy organic, biodegradable, all-natural products, you will see a rise in your shopping bill. Although, if you made your own cleaning products you will see a 90% savings or more! Who wouldn't love to save over 90%? A 2009 study showed the average family spends over $800 per year on household cleaning products; I am here to tell you that you can cut that bill by 90% by making your own products. Who doesn't like to save 90% off? While there are hundreds, if not thousands, of DIY cleaning products recipes on the internet, any recipe I share has to meet all three G's. If I can't afford to make it cheaper than I can buy it, I won't. Here is a price comparison for the recipe I am going to share with you for my herbal antibacterial bathroom cleaner.
Lysol Antibacterial Cleaner $3.99 (on sale)
Seventh Generation Organic Cleaner $4.99
3 G Cleaner that you make $0.29
That is an incredible savings! Let's get started. I call this my "bathroom" cleaner because I add specific ingredients that are known for killing bacteria but you can use this cleaner anywhere* in your house. Herbal Antibacterial Bathroom Cleaner
Distilled White Vinegar
Fresh Herbs (Thyme, Rosemary, Eucalyptus)
Glass Container with plastic lid (I use quart mason jars with plastic lids)
Water
Instructions Fill your glass jar ¾ of the way full with herbs. You can use many different herbs but this is my favorite combination. Pour vinegar over herbs and fill the glass jar. Place cap tightly on jar and let set for two weeks, shaking every other day or so to help release oils from herbs. After two weeks (you can leave longer if you want), strain herbs and fill your spray bottle ¾ of the way full with your herbal vinegar infusion. Fill the remaining of
the spray bottle with water. Store left over vinegar in a glass jar for future use. Vinegar– Vinegar by itself kills; mold, bacteria and viruses. You can use straight vinegar and clean your entire house but when you add herbs you kick the germ fighting, bacteria killing properties up a notch. Herbs- Herbs have been used for thousands of years, as well as vinegar, for many medicinal purposes. Herbs have; antibacterial, antimicrobial, antiviral, antifungal, and a 100 more properties. When you infuse them with vinegar you create a powerhouse cleaner that is safe for you and the environment. *Do not use vinegar on granite or marble. You can replace the vinegar in this recipe with witch hazel or rubbing alcohol. To learn more about green cleaning recipes you can read my new ebook, The 3 G's of Kitchen Cleaning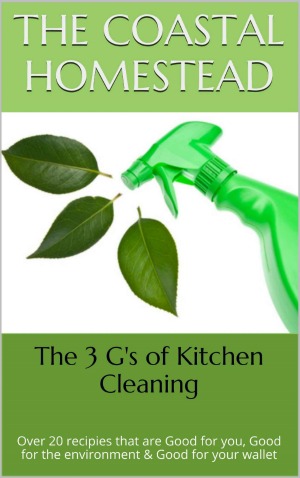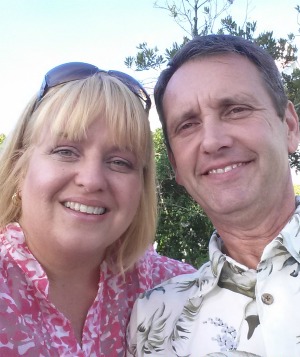 Amber is a environmentalist, garden and outdoor enthusiast. She is a wife, mother of three, owns a contracting business with her husband, is President of the local Herb Society, and a 4-H Leader. Amber strives to get back into nature with a more sustainable and self-reliant lifestyle that fits a busy schedule and a tight budget. In effort to reduce our environmental impact and toxic chemical exposure she teaches workshops sharing with others how to make all of their household supplies implementing her 3 G principal.

Good for you
Good for the environment
Good for your wallet

She lives on the east coast with her family on a little over 1/4 acre and encourages others to do big things with small spaces. When not out in the garden you can find her sharing her latest homestead tips at The Coastal Homestead, on Facebook, or on Pinterest.
Disclosure: Some of the links below are affilate links, meaning, at no additional cost to you, I will earn a commission if you click through and make a purchase.