10 Easy Ways To Freshen Up Your Home Any Time
Spring is the perfect time to freshen up your home. It's a time of change, renewal and warmer days. Once spring cleaning is done consider one of these ten easy ways to add a fresh touch to your home.
1. Open the windows
During the winter months the windows stay closed. Your indoor air becomes stale. In fact, indoor pollution is much worse during the winter months. Simply opening the windows can add a lot of energy to your home. Open the curtains to let the sunlight in too. It'll refresh your home and your spirits.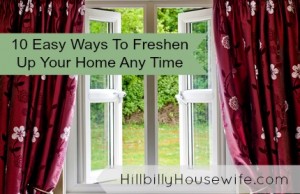 2. Use essential oils
Essential oils are great for aromatherapy and room fresheners. You can place a few drops of your favorite oil in a bowl of water. You can place a few drops on a basket of rocks. You can even use a diffuser or a room spray. Good spring scents include lavender, verbena, lemon, orange and grapefruit.
3. Burn a soy candle
If essential oils are too much effort, grab a soy candle. Soy burns without emitting toxins into the air. And they come in a wide variety of scents. You can purchase several candles and use them to accessorize too.
4. Steam the carpets
If steam cleaning your carpets wasn't part of your spring cleaning efforts, then consider steam cleaning them. It gets rid of the stale smells left over from winter. They're bright, soft and ready for spring. It's a simple way to freshen up your home.
5. Flowers
Flowers lighten and brighten a whole room. And they don't have to cost a fortune. You can grab a beautiful bouquet at your local supermarket for under ten dollars. Place them in a glass bowl, vase or pitcher for a simple touch of spring.
6. Rearrange
Moving your furniture around changes an entire room's look and feel. It's a simple process that takes less than thirty minutes and it can have a dramatic effect. IF you're looking but a simple yet powerful change, this is the step to take.
7. Add new accessories
Rug, vases, pillow and throw blankets can all add a new look to your home. Look for spring colors and patterns. For example, a robin's egg blue throw on a black couch with a few spring pillows lightens and brightens a room.
8. Buy a plant
Plants are an easy way to bring nature indoors. If you don't have a green thumb consider silk plants. They offer the same look with less maintenance. However, a live plant does offer air cleaning benefits.
9. Change your art
If you have art on your walls you can freshen up your room by changing it. You can buy new items or you can simply move the art around.
10. Fresh paint
A simple coat of paint can change your home's look and feel. If you've been considering painting, now is the time. You can paint an entire room. Or you might decide to paint a single wall for an accent.
Freshening up your home doesn't have to involve a total redo. A few simple steps can wipe out the last remnants of winter and welcome spring with open arms. Paint, accessorize, and add the scents and look of spring to your home.
Disclosure: Some of the links below are affilate links, meaning, at no additional cost to you, I will earn a commission if you click through and make a purchase.