2 cups plain yogurt
1/4 to 1/2 cup mayonnaise
1/2 teaspoon EACH: garlic powder, onion powder, celery leaves, & salt
1/4 teaspoon EACH: pepper, paprika, & dill weed
1 teaspoon dry parsley, OR 2 tablespoons fresh chopped parsley
In a medium sized bowl, combine all of the ingredients. Mix it all very well, and allow it to marinate for several hours or overnight. If desired, add a dash of cayenne pepper. Serve as a dip or dressing for salads. This is a spicy and delicious dressing, one I have used for many years.
The Hillbilly Housewife Recommends:  Secret Restaurant Recipes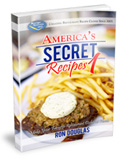 Don't spend a fortune going out to eat. Instead enjoy some of your favorite restaurant fare at home for a fraction of the cost.
These recipes are also perfect for dinner parties or a fun and special family dinner.
Get your copy today at: