I wish I could give you a simple answer on this, but there are probably as many ways to freeze pies as there are pies!
Some pies simply don't freeze well, regardless of how you do it. For example, custard pies and meringue topped pies are better off fresh baked.
On the other hand, fruit pies are ordinarily considered a successful candidate for freezing.  Also, pumpkin pies, mince meat pies, pecan pies, and chocolate pies are freezer friendly.
With that said, there is still more to consider.  Namely, should a pie be frozen unbaked or baked?

Many experts state simply that it is better to freeze an unbaked pie than a baked pie. They claim that the baked filling and crust goes through a transformation during baking that makes it perfect for eating, but not for freezing.
I have had wonderful success freezing unbaked pies. I keep my method very simple.  Here's what I do:
For a two crust pie, prepare pie crusts as usual, put the bottom crust in the pie pan, and lay the top crust on a piece of parchment paper.
Put both pie crusts, covered lightly with more parchment paper, in the refrigerator until chilled completely.
Prepare the filling and chill it as well.
Fill the pie, put the top crust on, and crimp.
Do NOT put any slices for vents in the top crust before freezing.
Wrap the entire pie carefully with plastic food wrap, then put it in two layers of zippered freezer bags, squeeze out all the air, and put in the freezer. I like to use it within 2 to 3 months, but it will last in the freezer up to 4 months.
To bake an 'unbaked' frozen pie, preheat the oven to 425 degrees F. Take the pie out of the freezer, remove from plastic wrapping – do NOT thaw – and put directly in oven on center rack for 15 to 20 minutes depending on thickness of pie. Then lower the oven's temperature to 350 to 375 degrees F and continue cooking according to the recipe for the fresh baked pie.
But, is it okay to freeze a baked pie?
If you choose to freeze an already baked pie, it certainly is possible. The main thing in this case is to be sure the pie has cooled COMPLETELY before freezing. Once it is cool, put it in the freezer UNWRAPPED for at least 1 or 2 hours before wrapping it.  This will keep any moisture from forming on the crust and making it soggy.  Then, remove and wrap tightly with plastic food wrap and double bag it in freezer bags, pushing out the air. Return the wrapped pie immediately to the freezer.
To bake a pre-baked frozen pie, remove it from the freezer, unwrap it, and let it sit at room temperature until slightly thawed, about 1 to 2 hours. To crisp up the crust a bit, put the pie in a preheated oven at 400 to 450 degrees F for 15 to 20 minutes, depending on the type and thickness of the pie.
What about freezing the pie crusts and pie filling separately?
This is an alternative that some people prefer.  There are space saving advantages in baking a batch of crusts and stacking them inside each other.  It all depends on how fast you want to produce a pie.  If preparing the filling takes too much time in your book, having pre-prepared and frozen filling ready and waiting to pop in the prepared pie crusts may be a good solution for you.
To freeze baked crusts, just prepare your crusts as usual, put in your pie pans, and bake. Be sure to completely cool the crusts before packaging in freezer bags. You may wish to remove the crust from the pie pan and start a stack of crusts, using parchment paper to separate each crust. To protect them from breaking, put the stack inside a box before you store them in the freezer.  You can keep a pre-baked pie crust frozen for about 3 months. To use, just thaw at room temperature on a cooling rack for about 15 minutes before setting the crust back in the pie pan (if you removed it.)
To freeze unbaked crusts, prepare your crusts as usual, lay the crust in a pie pan, prick a few holes in the bottom, then wrap in plastic wrap and put inside a freezer bag. You can stack several crusts together, one pie pan inside another if it works for you. Lightweight pie pans work best for this. You can bake these crusts, frozen, at a high heat, about 450 to 475 degrees F until light brown in color. Or, if your recipe calls for an unbaked crust, just fill and bake according to your pie recipe. These unbaked crusts last in the freezer for up to 2 months.
Regarding the pie filling, many pre-cooked pie fillings freeze just fine. If you are hesitant about freezing uncooked ingredients (like eggs), I would skip it.  But, typically, you'll get good results with fruit pie fillings as well as pecan pie filling.
I hope this cleared up a bit of the confusion and didn't add even more!  My rule of thumb is if I can freeze a pie unbaked, I will.  If I had to freeze an already baked pie, I would just be very particular about the freezing and thawing process.
Have fun and don't be afraid to experiment.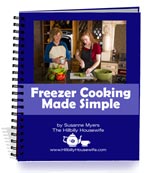 p.s. Just think if every meal was waiting for you right there in your freezer?  Not just pies, but breakfast, lunch, dinner, and snacks, too?  If that sounds good to you, I know you'll want to check out my ebook,  Freezer Cooking Made Simple.

Cooking frugal meals has become a number one concern for many of us. Saving money while providing nutritious meals for our families is what freezer cooking is all about.
Knowing the freezer is full can give you a nice secure feeling, not to mention all that extra time you'll have not running around trying to figure out what to feed the family.
Here's a glimpse at what Freezer Cooking Made Simple has to offer:
How to make your first few freezer meals and what you need to get started.
What foods will freeze well and what foods you should stay away from in your freezer cooking.
It's time to to stock your freezer with a week's worth of dinners (complete with recipes and grocery list).
Strategies for getting these meals prepared quickly and safely.
How to keep your freezer stocked and make the most of these simple and delicious freezer meals.
Are you ready to order your copy of Freezer Cooking Made Simple yet?  There is no reason to wait because your order is totally risk free!  And best of all, at only $9.95 this is an affordable ebook that will return your investment many times over.
Click here to order this incredible e-book at absolutely no risk and start stocking your freezer and saving money TODAY!