Vegetables Lo Mein
Disclosure: Some of the links below are affilate links, meaning, at no additional cost to you, I will earn a commission if you click through and make a purchase.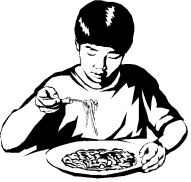 8 ounces dry spaghetti
3 to 4 tablespoons vegetable oil
1 onion, sliced
2 cloves of garlic, minced
1 pound package of frozen stir-fry vegetables or 3-1/2 cups fresh chopped veggies
3 tablespoons soy sauce
1 tablespoon sesame oil
Cook the spaghetti according to the package directions. When it is tender, drain it well and return it to the pot. Add 1 tablespoon of oil, and toss the spaghetti around until it is evenly coated. Next heat 2 or 3 tablespoons of oil in a very large iron skillet, or a wok. Add the onion and garlic. Sautè until the onion is tender and fragrant. Add the frozen stir-fry vegetables. Cook them very quickly over high heat until they are mostly thawed, about 3 minutes. Add the cooked spaghetti. Stir everything all up and let it fry for about 5 more minutes. If you think you need it, you may add a little more vegetable oil. Allow the pasta to brown some if possible. Sprinkle over the soy sauce and sesame oil as cook the mixture during the last 5 minutes. Serve with Egg Rolls and Hot and Sour Soup. Makes 4 servings.