Traditional Oven Roasted Turkey
November is here and I'm starting to think about Thanksgiving. It's never to early to start planning for the main attraction which is why I thought I'd share my favorite traditional turkey recipe with you today. It's simple, but comes out great every single time.
The secret to a moist and delicious turkey is the butter (see the recipe below) and basting it every 30 minutes. A turkey baster comes in very handy, but you can also use a large spoon or a soup ladle.
Oven-Roasted Turkey Recipe
Author:
Prep time:
Cook time:
Total time:
Ingredients
1 (12 lb.) whole turkey, thawed
6 tbsp. butter, divided
4 C warm water
3 tbsp. chicken bouillon
2 tbsp. onion powder
2 tbsp. parsley, chopped fine
2 tbsp. seasoning salt
1 tsp. pepper
Instructions
Prepare the turkey by removing the giblets and rinsing the turkey in cold water.
Use paper towels to dry the turkey well.
Separate the skin from the turkey meat on the breasts by inserting your finger and carefully lifting the skin up to make a pocket.
Place 3 tbsp of butter under the skin on each side.
Place the oven temperature on 350 degrees and allow the oven to preheat.
Place the turkey in a large roasting pan being sure the breast side is facing up.
Pour the water into a large mixing bow.
Sprinkle in the bouillon, onion powder and parsley being sure to mix well to combine.
Pour the mixture over the top of the turkey.
Sprinkle the turkey with the season salt and pepper.
Cover the turkey tightly with aluminum foil.
Bake 3 hours 30 minutes basting the turkey with the juices in the pan every 30 minutes.
Remove the aluminum foil and continue roasting for 45 minutes.
The turkey skin should be golden brown and the internal temperature of the breast meat should be 170 degrees when the turkey is done.
Remove from the oven and allow the turkey to stand 30 minutes before carving.
[img src="http://www.hillbillyhousewife.com/site/wp-content/uploads/2013/11/roasted-turkey.jpg" alt="" width="387″ height="310″ class="aligncenter size-full wp-image-23575″]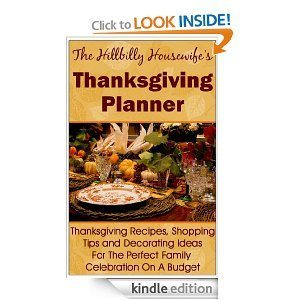 The Hillbilly Housewife Thanksgiving Planner
Don't run around like a chicken (or should that be turkey?) with its head cut off on Thanksgiving morning. The Hillbilly Housewife's Thanksgiving Planner will help you plan ahead and stay on top of things so you can actually enjoy Thanksgiving with your family & friends.
If you take a quick minute to read the first chapter you'll realize how easy your Thanksgiving celebration will be. There are plenty of tips and ideas to make sure this year's feast doesn't stretch your budget to the breaking point, too.
There are also 2 bonuses tucked inside: A printable planner & checklist and all of the recipes in a printable pdf file.
http://www.amazon.com/The-Hillbilly-Housewifes-Thanksgiving-Planner-ebook/dp/B00A81OQ56