The History And Symbolism Behind Traditional Easter Foods
Disclosure: Some of the links below are affilate links, meaning, at no additional cost to you, I will earn a commission if you click through and make a purchase.
A big Easter dinner is a tradition in our house, as in many. After church comes the hunt for the basket, then, if the weather permits, some time outside to play.  By early afternoon we are busy in the kitchen preparing the feast.  It's a busy day but one we all enjoy.
How about you? Do you have a busy Easter topped off by a big meal?  What do you serve for Easter dinner with your family? There are a few traditional Easter dishes that have an interesting history and symbolism behind them.  I thought you may enjoy reading about a few.
Hot Cross Buns
This currant or raisin filled yeast bun is a traditional favorite in England. Usually eaten on Good Friday, they get their name from the "cross" on top of the bun. Mostly thought of as a Christian symbol, the hot cross bun finds its roots in pagan tradition. There is some disagreement with the symbolism of the cross from the pagan custom. Some thoughts are that the cross represents the sun wheel while others believe the cross might symbolized the four quarters of the moon.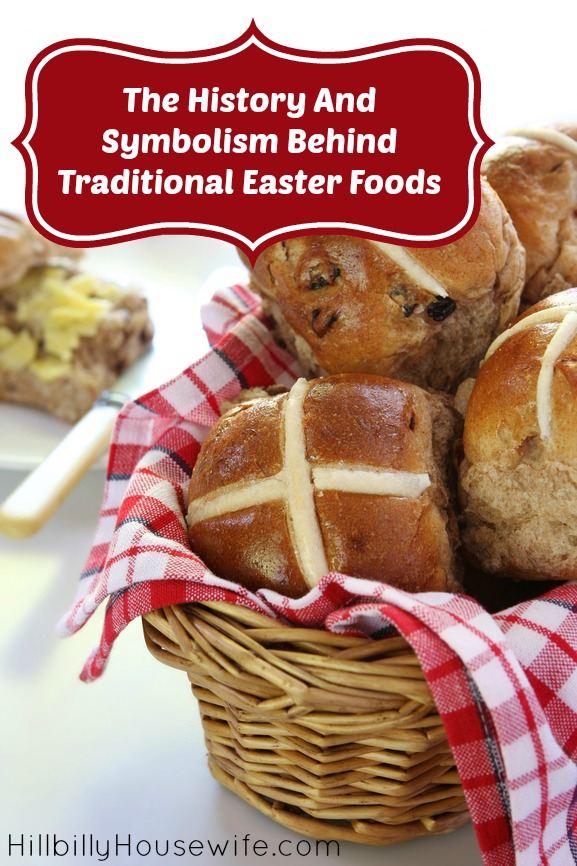 When the Christian Church attempted to ban the buns, the people balked.  So the church did the next best thing and embraced the bread, but only as a Christian food.  As a matter of fact, Queen Elizabeth I passed a law that only allowed the bun to be eaten during Christmas, Easter, or funerals.  In modern times, these rules are broken. But tradition still holds that Christian families in England serve hot cross buns at Easter time.
Pretzels
Originally created by monks with leftover scraps of dough and given to students as rewards, pretzels became a popular part of Lent celebration during the Middle Ages. Pretzels do not contain eggs, milk, butter or lard; ingredients which were avoided during lent. Thus, the pretzel became associated with lent and leading up to Easter.
Pretzels are also said to represent praying arms, while the three holes represent the Holy Trinity. In some countries, pretzels used to be hidden along with the Easter eggs.
Greek Easter Bread
This sweet dessert bread, tsoureki, is traditionally served as part of the Greek Orthodox Easter feast. Tsoureki was also traditionally given as an Easter gift from children to their godparents. Different versions many include a citrus flavored bread topped with nuts. A red egg is traditionally cooked with the bread as well.
This Easter treat is traditional shaped into a braid. A red egg is cooked and tucked into the braids of dough. The bread is said to represent the light given to us by Christ's resurrection and the red egg represents Christ's blood. Another version of Greek Easter bread is cooked as a circle with red eggs forming a cross across the top of the bread.
Ham
Ham is a traditional part of the Easter feast in many American homes, and it's origin is more practical rather then symbolic. In early years, before refrigeration, fresh pork slaughtered in the fall that hadn't been consumed before Lent had to be cured for preservation. Curing was a slow process and the first hams were generally ready around Easter time, making it a common choice for Easter feasting. Today, many families still serve ham as part of their Easter celebrations.
Lamb
This traditional meat is actually a combination of two symbolisms. The original use of lamb dates back before Easter as part of the Jewish Passover where a sacrificial lamb is roasted and eaten as a reminder of the angel of God passing over their homes in Egypt.
Later, Jesus was often referred to by Christians as The Lamb of God. As Christianity grew, Hebrews who converted to Christianity brought some of their traditions with them and the combination resulted in the use of lamb as part of many Easter dinners.
As you plan your Easter meal think about incorporating some of these traditional foods. Then, when you gather around your table,  share the stories about the history and symbolism of the Easter food on your table.  Happy Easter from our family to yours.
ahhh… the aroma of fresh baked bread. Is there anything better? Well, yes there is! How about the aroma of pies, cookies, muffins, cupcakes, brownies, cakes, and bread, too, ALL coming out of your own oven, piping hot and delicious!

If you've been a bit shy about starting to bake bread or other goodies, Baking Made Simple is the perfect place to start. This collection covers all your favorite baked goods, from bread to brownies, cookies to cupcakes, and more. You'll find recipes to get you baking fast and easy, with tasty results every time!

Along with hundreds of recipes, you'll also get detailed instructions for producing excellent doughs, pastries, and batters, as well as advice on just what baking essentials you'll need. You can start as simply as you wish, or dig in and set your kitchen up to rival any professional bakery.

Don't wait any longer to start baking with your family! Click on and order your copy of Baking Made Simple now and enjoy the warm, comforting aroma of fresh baked goodies in your very own kitchen today!