Spicy Peanut Sauce
Disclosure: Some of the links below are affilate links, meaning, at no additional cost to you, I will earn a commission if you click through and make a purchase.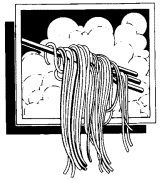 1 pound spaghetti
2/3 cup natural peanut butter
1/4 cup soy sauce
1/4 to 1/2 teaspoon cayenne pepper
1 teaspoon sugar or honey
2 tablespoons vinegar
2 cloves garlic, minced
1/2 to 3/4 cup boiling water, if desired
Cook the spaghetti in a big pot of boiling salted water. When it is tender, drain it well, and return it to the pot. Meanwhile prepare the sauce. In a medium sized bowl combine the peanut butter, soy sauce, cayenne pepper, sugar, vinegar and garlic. Mash it all together until it is smooth. The mixture should be thick. If you like, you may thin it out with boiling water, until it is a consistency you like. I use water from the boiling spaghetti and stir it a whole lot to make it smooth. When the spaghetti is cooked and drained, pour the sauce over it and toss it well. Serve in big bowls with canned pears and sliced cucumbers in vinegar. This is really good. If the kids think it is too hot, use less cayenne pepper the next time. Most children enjoy this dish because of the peanut butter. Serves 6.