Ramen Noodle Recipes
Disclosure: Some of the links below are affilate links, meaning, at no additional cost to you, I will earn a commission if you click through and make a purchase.
My daughter is a big fan of Ramen Noodles, especially the chicken flavor kind. She's fine with eating them just plain, but I like to play with it and come up with some yummy variations. We've tried all sorts of things and I know there are tons of ramen noodle recipes out there.
Here are some of our favorites:
Ramen Egg Drop Soup
Fix Ramen Noodles according to package direction making them rather soupy. Right before they are done, scramble up one egg in a small cup along with a little soy sauce. Slowly pour the egg mixture into the hot noodles while stirring them in one direction. The addition of the egg makes this a filling snack or light lunch and adds quite a bit of protein.
Creamy Asian Noodles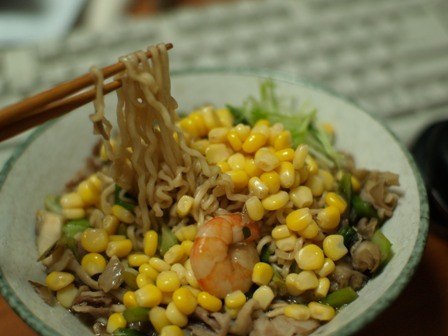 I first heard about this from my friend Nicole and to be honest I was reluctant to try it…. once I did, we were hooked and make these as an after-school snack all the time. Fix a packet of ramen noodles according to package directions. Go easy on the water. Right before you take it off the stove, add a teaspoon of peanut butter to the mixture.
It's great just like that, but even better if you throw in some leftover veggies, chopped peanuts or even leftover chicken. By adding chicken, veggies and peanuts, this becomes a full meal perfect for quick and easy dinner.
Ramen Beef Skillet
This makes enough to feed a crowd.
2 packages of Ramen Noodles
2 cans of tomatoes
1 can of corn
1 lb ground beef
Brown the beef in a soup or stew pot and drain off any excess fat. Add the tomatoes, corn, and noodles. Bring to boil and add the seasoning package. Cover, stirring occasionally. Simmer until most of the tomato sauce is evaporated and the noodles are soft (about 5 minutes).
What are your favorite Ramen Noodle Recipes?
I Highly Recommend Back 2 School Survival Guide

Chock full of tips, ideas, and suggestions that help families get organized and prepared for back to school covering everything (and much more) from establishing routines, packing lunches, completing homework, and purchasing school supplies to dealing with bullies, volunteering in the classroom, maintaining multiple schedules, and teaching responsibility.

Plus you'll get:

Student Planner
Master Family Planner
Sample/Customizable Routines
School Information Sheet
Schedule Adjustment Worksheet
Countdown Maze
My Favorites Worksheet
Grocery Planner
Family Fun Worksheet
School Goals Worksheet
Classmate Contact Sheet
Important Dates At-A-Glance

It's a great guide and ebook and I'm in love with the cute and helpful printables. Take a look at http://www.hillbillyhousewife.com/back2school