Whole Wheat Peanut Butter Cookies
Disclosure: Some of the links below are affilate links, meaning, at no additional cost to you, I will earn a commission if you click through and make a purchase.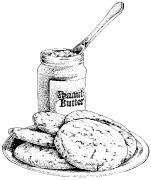 1 cup margarine (2 sticks)
1 cup peanut butter
2 medium eggs
1 cup sugar
1 cup brown sugar
1 teaspoon vanilla
1 teaspoon salt
1 teaspoon baking soda
1 teaspoon baking powder
2-1/2 cups whole wheat flour
Mix together the margarine and peanut butter in a large bow with a big spoon or whisk. When they are blended together and creamy, add the white sugar and brown sugar. Mix it all up until it is light and fluff. Add the vanilla and salt, and mix again. Finally measure in the baking soda, baking powder and flour. Stir it all up, it will be very thick. At this point a spoon works better than a whisk. When you have a nice smooth dough, you can stop mixing. Shape the dough into balls about an inch in diameter. Arrange them on a cookie sheet. Dip a fork in a small amount of flour, and smash each dough ball twice with the tines of the fork, making the traditional cross-hatch pattern. You could also just smash the balls with your palm to flatten them out, if the cross-hatch pattern isn't very important to you. I find that children are more than willing to help out with the fork flattening of the cookies. Bake the cookies at 375° for about 10 minutes. Cool slightly before removing from the pan. Makes about 4 dozen cookies.