Kettle Corn
Disclosure: Some of the links below are affilate links, meaning, at no additional cost to you, I will earn a commission if you click through and make a purchase.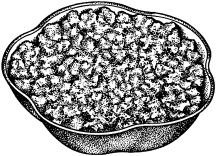 1/3 cup corn oil
1/2 cup sugar
1/2 cup popcorn kernels
Salt to taste
Over a medium-high flame, heat the corn oil in the bottom of a heavy 3-quart saucepan. Sprinkle in 2 or 3 popcorn kernels. When the kernels pop add the sugar, and then the remaining popcorn. Cover with a good lid. Shake the pan over the heat while the popcorn pops. When the popping stops, remove the pan from the heat. Immediately pour the hot popcorn into a bowl. Try to remove any oldmaids with a spoon or fork. The popcorn will be hot and sticky so be very careful not to burn yourself. The popcorn should be lightly coated with a beautiful amber caramel. Salt the kettle corn to taste and serve to thankful recipients. Makes a large bowlful. Tastes best late at night while watching a scary movie with friends and family.