Recipe For Homemade Baby Wipes
I am looking for a recipe or procedure fo r making homemade baby wipes.
Thank you.
Please don't forget to "Pin" this post, it helps get the word out about our site. Thank you!
The Hillbilly Housewife Recommends: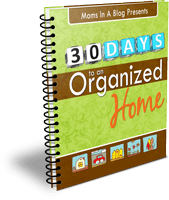 Tracy Roberts of MomsInABlog.com is the author of 30 Days to an Organized Home, and she has a plan!
Work your way through organizing and decluttering every room in your house in 30 days with easy to follow daily tasks that keep you from getting overwhelmed with the task at hand.
You'll also find helpful printable checklists that will keep you on task and allow you to track your progress.
Get your copy today at 
http://www.hillbillyhousewife.com/organizedhome