How To Make Bone Broth
Bone broth is the liquid you get from boiling bones in water for several hours. It has a lot of nutritional value, is full of minerals and is said to help boost your immune system. It's also very tasty and makes a wonderful base for all sorts of soups and stews.
The easiest way to make your first batch of bone broth is to start with a cooked chicken. Roast it yourself or head to your local grocery store and pick up a rotisserie chicken. Pull the cooked meat of the chicken and serve it for dinner. Store any leftover meat in the fridge to use later on to make chicken and noodle or chicken and rice soup with the bone broth you're about to make.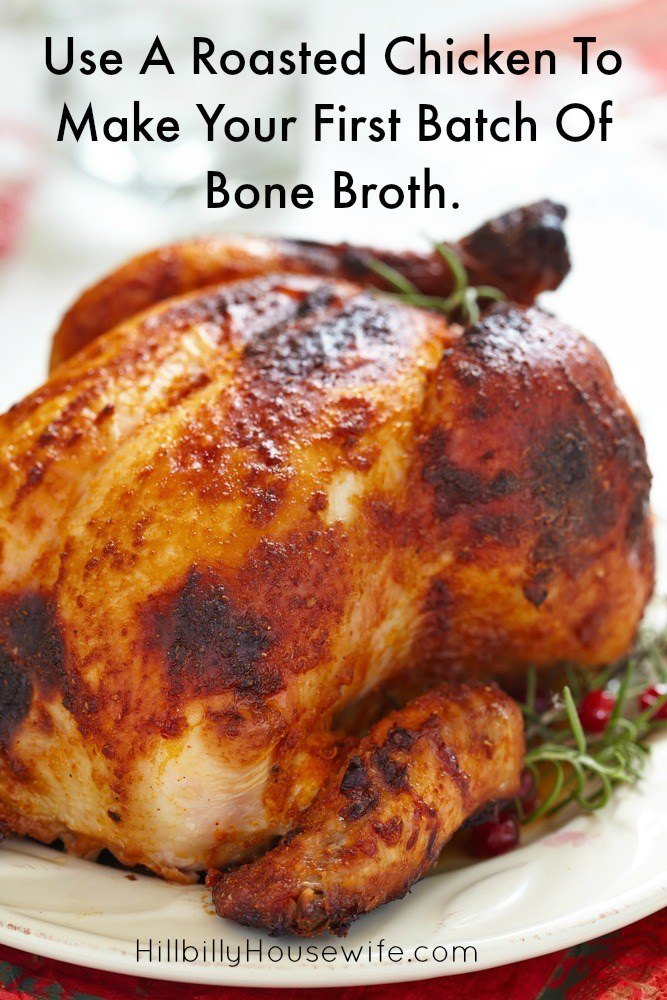 Put everything that's left – all the bones and any remaining bits and pieces of meat – into a large pot that has a lid. Fill it with plenty of cold water. The more water you add, the more broth you'll get in the end. Don't fill it all the way to the top or you risk the liquid bubbling over.
Next, add a good splash of apple cider vinegar to the pot. This step is optional. If you don't have the vinegar in your pantry don't fret it. You can add a splash of red wine or white vinegar if you'd like. The vinegar helps get all the minerals out of the bones and into the broth. But again, don't worry if you don't have it. Your broth will be just as tasty and almost as good for you without it.
Cover the pot with the lid and crank up the heat until everything comes to a full boil. Reduce the heat to a simmer. Cook your bone broth for a minimum of 12 hours 48 to 72 hours is better. Of course you don't want to simmer the broth while you're out of the house or sleeping.
Start the broth in the morning on a day when you know you'll be home. Simmer it all day until you're ready to go to bed. Turn off the burner for the night, but keep the broth sitting on the stove. In the morning, bring the liquid back to a boil and continue simmering.
The broth will be tasty after a few hours of simmering but will get better with time. After it has cooked for 12 hours you can start to use it. Just replace the liquid you're taking out with more water to keep stretch the broth.
Pour some of the finished bone broth into a smaller pot, add the shredded chicken along with some rice or noodles and leftover veggies to make some soup. Or just drink the broth. It's delicious.