Harvard Beets
Disclosure: Some of the links below are affilate links, meaning, at no additional cost to you, I will earn a commission if you click through and make a purchase.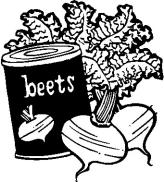 15 oz can of sliced beets drained, reserve juice
2 tablespoons sugar
1 tablespoon cornstarch
3 tablespoons vinegar
1 tablespoon or margarine
1/4 teaspoon salt, if desired
In a quart size saucepan combine the sugar and cornstarch. Measure the beet liquid. You need 3/4-cup, add water if necessary to bring the amount of liquid to this level. Gradually stir the liquid into the saucepan, stirring to dissolve the cornstarch. Add the vinegar. Bring the mixture to a boil over medium heat, stirring often. When the mixture boils, add the drained beets and the margarine. Simmer for about 5 minutes to tone down the vinegar, and blend the flavors. Serve hot. This recipe serves 3 beet lovers, or 6 beet toleraters. Children who are sensitive to strong flavors will often eat these beets because of their unusual sweet and tangy flavor. For company meals, or a surplus of fresh beets, this recipe is easily doubled. If you are using fresh beets, measure 2-cups cooked beets for a single recipe, or 4 cups cooked beets for a double recipe.