Folk's Peach Muffins
Disclosure: Some of the links below are affilate links, meaning, at no additional cost to you, I will earn a commission if you click through and make a purchase.
I've searched online for a similar recipe for peach muffins from Folk's restaurant. I love these, and have tried to make them at home, but it's no where near what I'm looking for. They sell tubs of the pre-made batter, but not the recipe. Can any one help with me with this? Thanks
Jennifer in GA
The Hillbilly Housewife Recommends:  Secret Restaurant Recipes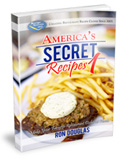 Don't spend a fortune going out to eat. Instead enjoy some of your favorite restaurant fare at home for a fraction of the cost.
These recipes are also perfect for dinner parties or a fun and special family dinner.
Get your copy today at: