Creamed Peas
Disclosure: Some of the links below are affilate links, meaning, at no additional cost to you, I will earn a commission if you click through and make a purchase.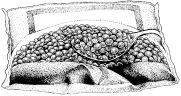 2 tablespoons margarine
2 tablespoon flour
1 cup milk
1 teaspoon sugar
1/2 teaspoon salt
Good Dash pepper
2 cups frozen peas (use a 10 oz box, or measure 2-cups from a bag of loose frozen peas)
Get out a quart size sauce pan, or bigger. In it, melt the margarine over medium heat. Using a fork or a whisk, stir in the flour until it is smooth and lump free. Now very gradually stir in the milk. I use a whisk for this because it makes the work go faster. When the milk is well combined with the fat and flour, add the sugar, salt and pepper. Cook and stir the sauce until it begins to boil. Count to sixty, stirring it the whole while. Now add the frozen peas. Cover the pan and allow it to simmer for about 3 to 5 minutes over medium heat. The peas should thaw and cook briefly, but not too much. Over cooking is ruin for this dish. It needs the peas to only barely cook, bringing out their freshest flavor. This recipe is easily doubled, as written it serves 4 to 6, depending on how much the family likes the peas. Some folks add 1/2-cup of shredded cheese to this dish, but I don't much like it that way. Still it is an option worth considering for persnickety eaters. These may be served on top of baked potatoes for a nice vegetarian main dish. Simple but good.