Cream Cheese Basil Sauce
Disclosure: Some of the links below are affilate links, meaning, at no additional cost to you, I will earn a commission if you click through and make a purchase.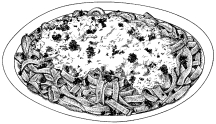 1 pound spaghetti or fettucini
1/4 cup margarine, softened
2 tablespoons dry basil
2 tablespoons dry parsley
8 ounces cream cheese, softened or 1 cup Yogurt Cheese
1/4 cup grated Parmesan cheese
1/4 cup olive oil or other oil
1/4 teaspoon garlic powder
1/8 teaspoon black pepper
1/4 to 1/2 teaspoon salt
2/3 cup boiling water
Cook the spaghetti in a big pot of boiling, salted water. When it is tender, drain it well, and return it to the pot. While the spaghetti is cooking prepare the sauce. In a big bowl use a fork or a whisk to mash together the margarine, basil, parsley and cream cheese. Mash it until it is smooth and creamy. Add the Parmesan, olive oil, garlic, pepper and salt to taste. I prefer it salty, but others may not. Continue stirring it all up until it is creamy again. Now add the boiling water. I dip it out of the boiling spaghetti with a metal measuring cup, but you could measure it, and boil it separately in the microwave or on the stove if you preferred. Pour the boiling water in slowly and mix it all up until the sauce is the consistency of thick cream. Pour the sauce over the cooked spaghetti and toss it all together until it is well mixed. Serve in large bowls with a green salad. Serves 6 or 7.