Chai Tea Mix or Spiced Milk Tea
Disclosure: Some of the links below are affilate links, meaning, at no additional cost to you, I will earn a commission if you click through and make a purchase.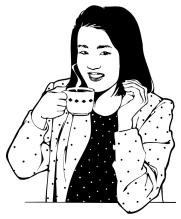 1/2 cup instant tea
1/2 cup nonfat dry milk
1/4 cup powdered coffee creamer
1/2 cup white or (better) brown sugar
1 tablespoon instant vanilla pudding mix
1/2 teaspoon cinnamon
1/2 teaspoon ginger
1/4 teaspoon nutmeg
1/4 teaspoon ground cloves
1/4 teaspoon ground cardamom
1/8 teaspoon black pepper
In a resealable container combine all of the ingredients and stir with a fork or a whisk to distribute everything evenly. Store on the pantry shelf.
To Prepare: Combine 3 tablespoons Chai Tea Mix with 1 cup boiling water. Stir well to dissolve. Sip and savor.
Cardamom is the ingredient that gives this recipe an authentic Indian flavor. To tell the truth though, it can be expensive and hard to find. If desired you can omit it completely or replace it with an equal amount of allspice. It will not be authentic Chai at that point, but it will be authentic Spiced Milk Tea, which is pretty much what Chai means. Some people add ground fennel or lemon peel to their Chai. I prefer this recipe made with brown sugar, but white sugar is cheaper and makes a prettier mix. Feel free to experiment with the flavors as you see fit.
If you are enjoying this frugal drink recipe, try my honey lemonade recipe next. It's delicious on a hot summer day.