Your HBHW Gift Certificates
Thanks so much for your order. I will email you shortly with your gift certificate information. It will include a special code that you and the person you ordered the gift certificate for will use during the checkout process.
Here's what it will look like: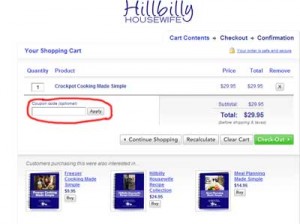 You simply enter your coupon code in the box above that's circled in red to apply the gift certificate coupon.
I will also email you a gift certificate you can print out to give as a gift. You can expect my email within 24 hours during the week and most weekends as well.
If you would like to email you to an address other than the one you specified during the initial order, email me at susanne@hillbillyhousewife.com including your order number.
Happy Holidays!
Susanne – The Hillbilly Housewife
Disclosure: Some of the links below are affilate links, meaning, at no additional cost to you, I will earn a commission if you click through and make a purchase.